Yet another Jiayu G3 out of the box experience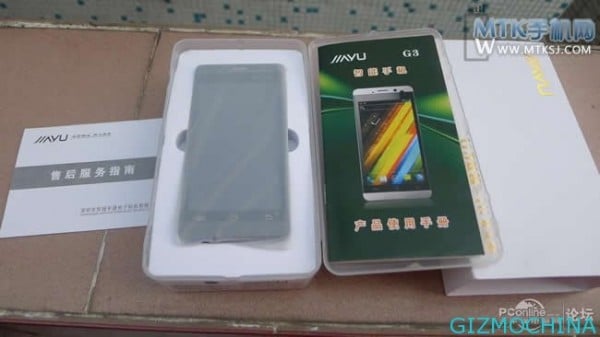 While we have covered the news about JiaYu G3 and now we have a couple picture when JiaYu G3 is unboxing. but unfortunately not all the user can get their JiaYu since this manufacturer late shipping this smartphone to the market.

The JiaYu G3 detailed specification are as follows:
CPU: MTK6577 1G dual-core
Memory: RAM1G + ROM4G
Display: 4.5 inch HD IPS screen
Resolution: 1280 × 720
Camera:  2MP  front camera,  8MP rear AF camera
Battery: 2750 mA
Touch screen: G + G multi-point touch
Body thickness: 10.8 mm
JiaYu G3 of the main highlights:
A dual-core CPU, more robust performance.
4.5-inch 720P HD big screen and better video game visual experience.
The section of the fuselage with aircraft-grade alloy materials.
2 million pre-camera self-timer, video chat with more force.
large capacity battery, standby time of more assurance.
slim design, the fuselage thickness G2 snap.
Buy Jiayu G3 at here: Android-Sale.com