Cube U9GT3, 8 inch tablet with lightweight design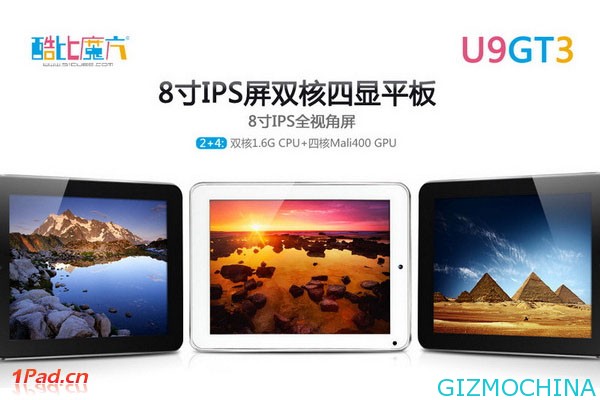 Domestic tablet is more increase while for now, and we have so many product in the domestic market today, but not all product has a good quality and good specs, and we have more screen resolution option to choose.

The screen resolution is vary from the original 800×480 and 800×600 the deformed screen, to the 9.7-inch screen size with 1024×768 IPS screen, to the 7-inch 1024×600 and 1280×800 IPS screen.
But that is 8 inches aspects rather awkward, that the use of a dual-core processor and 1024 level screen, and the most material of the ordinary TFT screen is the familiar for most domestic tablet devices. But now there is more than a lot of people look forward to a launch 8-inch IPS screen tablet.
We have the nice information about tablet device of Cube U9GT3, this is the 8-inch IPS screen with 1024×768 resolution, support five touch-screen and this screen size is good for any kind of activity such as browse the web or reading an eBook.
The Cube U9GT3 is powered with RK3066 dual-core processors, with the quad-core Mali 400 GPU, this psecs is nice and cool enough to deal with day-to-day applications and large-scale 3D games. In addition, the tablet is also equipped with 1GB of memory and 16GB of internal storage, support for USB on the go as extensions, Cube U9GT3 has 699 yuan price tag.