The picture of LG Nexus 4 smartphone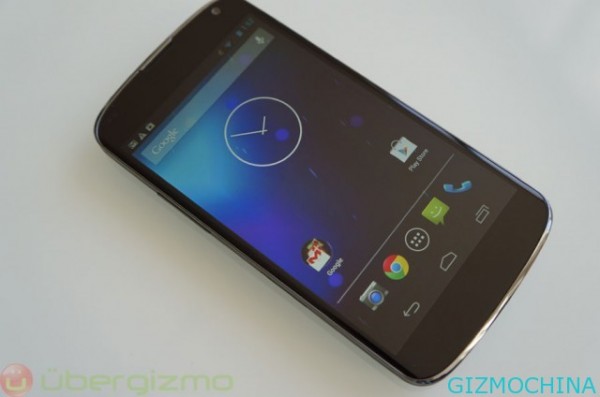 While we've heard manu rumors about the new Google Nexus phone, finally Google unveiled the latest Nexus 4 Android smartphone to the public.

The Nexus 4 has the same as was previously rumored. The specification is quite high-end. Powered by Snapdragon S4 Pro processor using 1.5 GHz quad-core processor, sports with 4.7-inch IPS screen display with 1280 x 768, 2GB of RAM, 8 megapixel rear camera and 1.3 MP front-facing camera, this phone is powered with 2100 mAh battery. Additionally Nexus 4 also features the latest technologies such as NFC and wireless charging. On storage media, there is a choice of 8GB and 16GB.
Not many surprises from Nexus 4 specs, because the previous specification was leaked on the internet a couple of weeks. One thing that makes it different is the impression that is felt when holding this smartphone. As reported by The Verge, 'feels' more weighty and high-end, and assembled with a combination of plastic touches the soft portion on the side and chrome. This design gives the impression of a solid and luxurious.
For connectivity issues, Nexus 4 embedded with Bluetooth, 802.11b/g/n WiFi, and 3G HSPA+ network. Here are the picture of LG Nexus 4 smartphone from Google.