6 inch tablet PC, Zenithink N6 officially listed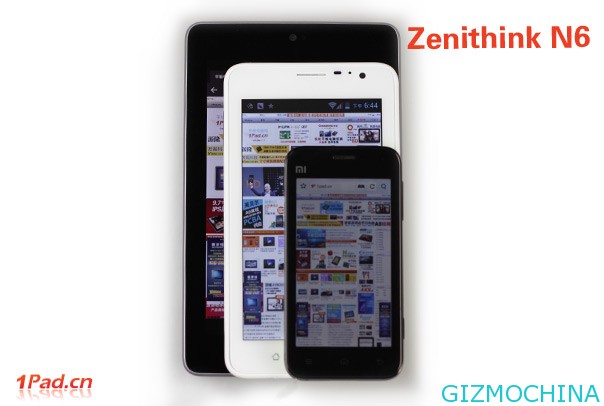 While we've ever covered the news about Zenithink N6 before, is now we have very happy to announce about the launch of new tablet from Zenithink, the Zenithink N6 is now listed.

Dopod has been launched 686 smartphone device which has 3.5 inch screen size. Now, even though Apple has launched a 4-inch screen of the iPhone 5, we still feel Apple is not bold enough to stick to the small screen, the Samsung Galaxy Note Series constantly breaking the size barrier, with 5.3-inch screen, a 5.5-inch, Note II screen, I believe that Note 3 will be a continuation of the strategy of the larger screen, the selling of Note has proven the phone how much is not a problem, because the phone is no longer just phones, but personal information processing center. The science and technology park in Shenzhen, China has ready to launch 6 inch screen size device through Zenithink N6 and now this device is ready their step to the market.
Zenithink N6 is powered by MediaTek MTK6577 dual-core, running at 1GHz clock-speed, spors with 512MB of RAM and now they recognized as 1GB DDR memory, built-in flash memory to 4GB. With 6-inch LCD screen has 800×480 resolution, using the specifications of the screen is the same because of its pricing, According to the information, Zenithink N6 has price tag for $ 100.
Certainly the big screen, we are more worried about is life, Zenithink N6 powered by 2800mAh large capacity battery, which can run for 8 hours with WiFi turn-on, which should be able to eliminate the concerns of battery life.
As for other functions, it is possible to introduce the tone of feature since the credit MTK highly integrated, Zenithink N6 is not just a 3G Tablet PC, 3G mobile phone, or a direct call is a navigator with dual-mode GSP module, is a large-screen video terminals, and has 5 megapixel camera.
Here are the brief Specs of Zenithink N6
Time to market     In 2012
Operating system Android 4.0
Processor MTK6577 Cortex A9, clocked at 1GHz
Screen Size  6 inches
Screen resolution  800 x 480
Touch mode Multi-point capacitive
System memory / storage  1G DDR3 / 4G Nand FLash
Expansion Storage  32G TF card expansion
Other features Wi-Fi, 3G (WCDMA), Bluetooth, GPS, FM radio
Camera 3 megapixel front facing camera and 5 megapixel rear camera
Shell material Engineering plastics
Estimated price     more than $100 USD
Source Android-Sale.com