Konka W830 music smartphone with built-in Yamaha Amplifier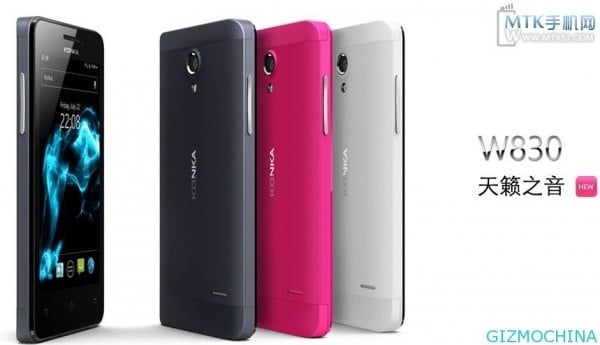 Smartphoe with music capability is becoming more popular, but the Konka W830 is diferent, since this Android smartphone packs with professional music amplifier from Yamaha.
Konka is always making good quality smartphone and ready to compete with other manufacturer, while for now Konka is ready to enter for global market through their high quality products. And the one of their products is Konka W830 music phone.

The Konka W830 music phone sports with Mediatek MTK6577 dual-core processor. This phone has candy bar form factor with a full-touch keys, compared with circular body design smartphone, Konka W830 square fuselage design is more smoot and gorgeous, with 124mm × 64mm × 10mm of size dimension, in addition to the conventional black models, the W830 also has few color such as dark grey, pink and white.
The interesting point about this phone is equipped with a professional music amplifier from YAMAHA and packs with a professional anti-breaking sound technology, I believe that the good performance of the main surface quality performance.
Konka W830 configured the same 40nm process architecture 1GHz Cortex-A9 dual-core processor, built SGX531 graphics processor, it should be the same with the another Konka model W960 is MTK6577 dual-core. W830 is equipped with a 4.0-inch TF screen resolution of 800 * 480, sports with 512MB of RAM, and 4GB of internal storage, There is 3 megapixel front facing camera and 5 megapixel rear camera with LED flash light.
There is no information about the price but you can check the Android-sale.com website if this phone has been officially released and will soon be listed.