Changhong HONPhone V9, Android smartphone with 9.9mm thickness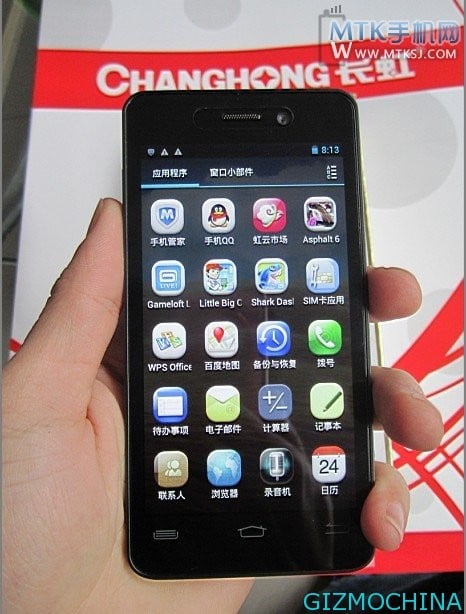 For global market, Changhong is known as consumer household electronic manufacturer, but this manufacturer also built smartphone beside electronic products such as air conditioner and refrigerator.
Changhong has been unveiled the Changhong HONPhone V9, a stylish ultra-thin smartphone, its body thickness of only 9.9mm, also has camera configuration with 1.3 megapixel front facing camera and 8 megapixel rear facing camera, this smart phone is also a mainstream configuration, daily pictures easily deal with. This phone is upgrade version from V8, and this V9 version powered by MTK6577 dual-core processor.

The packaging is look nice with elegant white color. When youopen the box cover you'll find the Changhong HONPhone V9 products with two packs of 2000 mAh battery, USB data cable, original stereo headphones, 4GB memory card, charger header and manual book with guarantee book inside.
The HONPhone V9 has positive feature, the factory has equipped this phone with a good protective film. V9 is packs with a 4.3-inch IPS screen, OGS touch screen full lamination technology, a resolution of 960 x 540 resolution, below the screen there is regular softbutoon which always found on most Android smartphone.
The back body of HONPhone V9 covered by full shell after the shell just the middle part, up and down with the body fit together, There is 8 megapixel main camera with a LED flash light, and the speakers in the back of the lower right. There is Changhong Logo on the lower and HANPhone logo on the center of the back body. While The volume control keys in the left side of the body.
When you open the back cover, you'll find the 2000 mAh removable battery, two SIM card slot (since this phone also support for dual SIM card and dual standbye), there is a micros SD slot for expansion storage.
This phone running Android 4.0 so you can see the Android user friendly interface rather than custom user interface (UI), you can touch and hold the home key to open the recent application and swicth jump to application or swipe the application to close it.
The HONPhone V9 can play Asphalt 6 Adrenaline game, this game require high GPU but this phone can handle those game without problem, the 512MB of RAM maybe to small for some user but the comercial version will be equipped with 1GB of RAM and offers with 1500 yuan price tag.