Google Nexus 4 vs Xiaomi MI2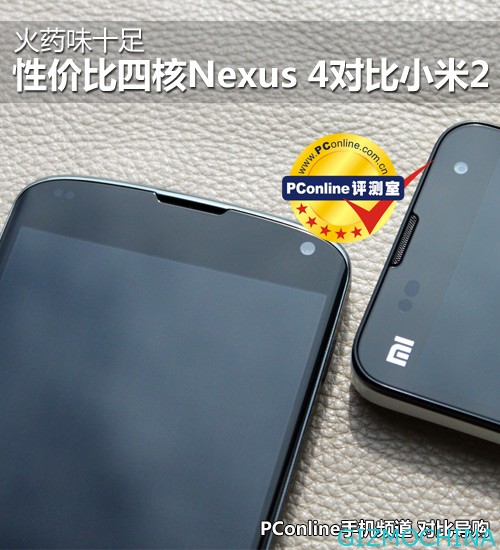 While Google has been univeiled their new Android smartphone, Google Nexus 4 which running new Android operating system v4.2 aka Jelly Bean, this smartphone built by LG manufacturer and becoming the one of powerfull smartphone in the market today. From domestic market, we have Xiaomi MI2 Android smartphone, this is the upgrade version from Xiaomi MX smartphone, the Xiaomi MI2 smartphone running with Android 4.1 Jelly Bean operating systems.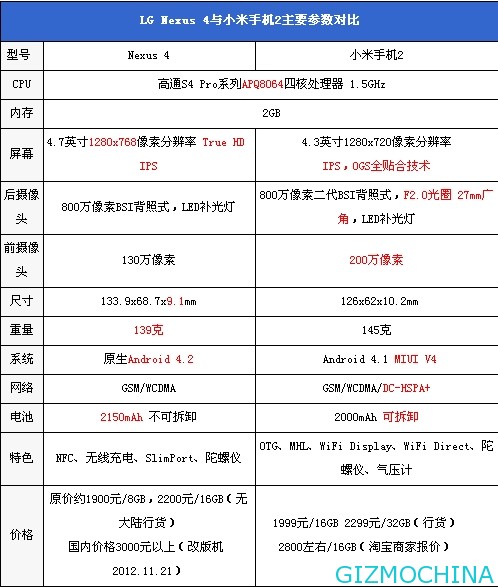 Both phones powered by Qualcomm Snapdragon S4 Pro APQ8064  quad-core processor; coincidentally, they have gained a high concern for domestic consumers. The two phones are very close to the next Xiaobian look at the similarities and differences between them in all its aspects, and how to choose to buy regardless of the hardware configuration or price.
Appeareance and Design
Wile the Google Nexus 4 has larger screen size than Xiaomi MI2, because Nexus 4 has 68.7mm wider than Xiaomi MI2 which only has 62mm body wide. Although the thickness is different only 1mm thinner, while personally both phone feels comfortable in hands.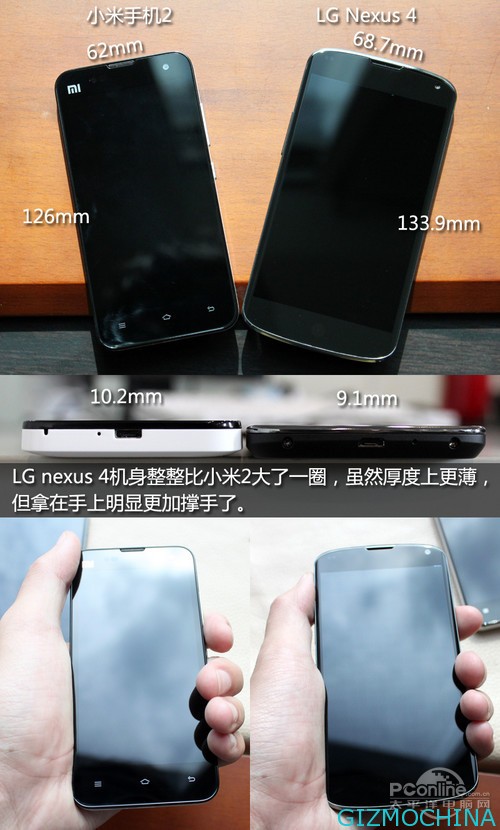 LG Nexus 4 is packs with Gorilla Glass screen and the wight is only 139gr, although 6g lighter than Xiaomi MI2 which has 145g weight, both phone using plastic for body material. And both phones has beautiful front panel design, while the Nexus 4 has micro curved screen point, and Xiaomi has regular flat panel display.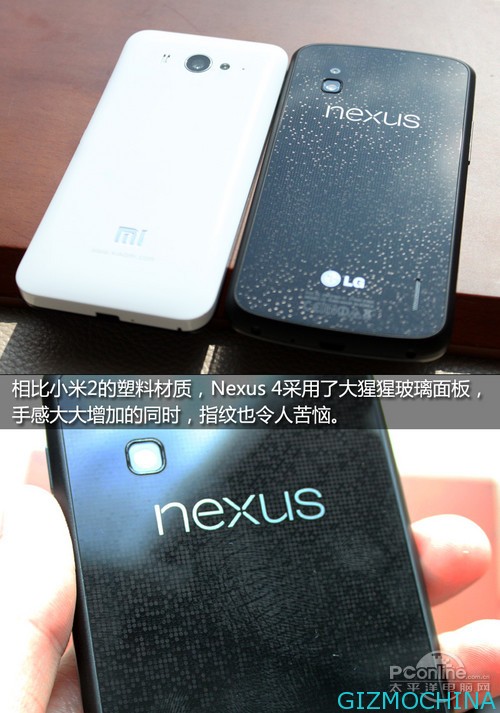 Xiaomi MI2 using plastics for back cover while the  LG Nexus 4 is used glass compared feel much better. And unlike the iPhone 4 / 4S the Nexus back cover glass is embedded in the border inside, to some extent, also to prevent a fall, causing the glass to shatter, strength, and the front panel glass. Its very easy to leave fingerprint on glass this problem can not be avoided, particularly in the black Nexus body particularly evident. The white iPhone 4/4S are so popular, it may be because white stick fingerprints were not evident. LG Nexus 4 white version will also solve this problem to some extent, maybe.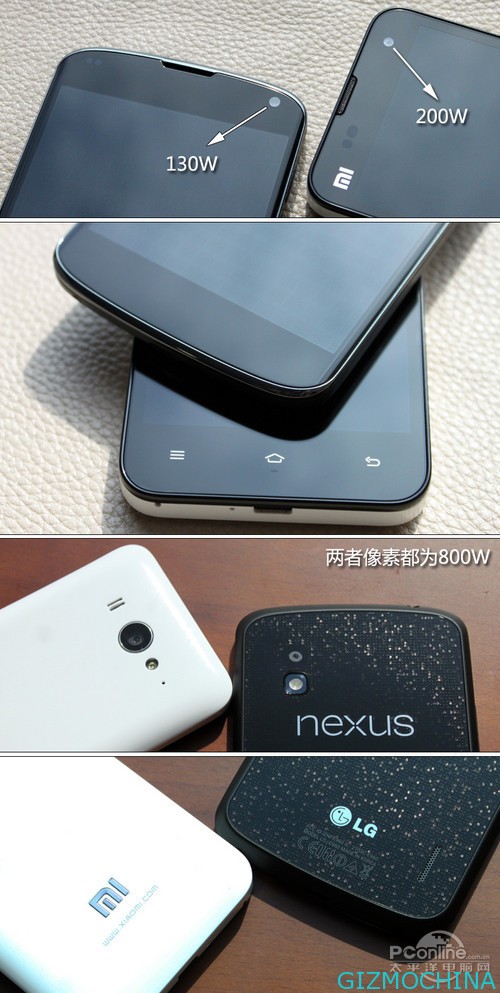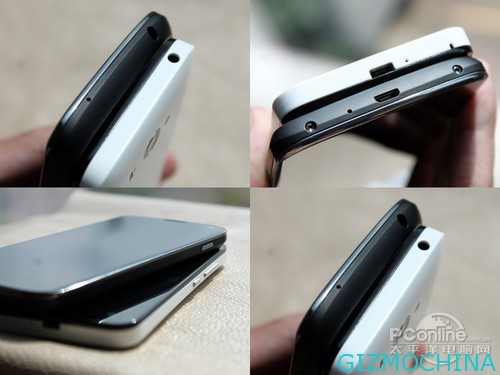 But LG Nexus 4 usesnon-removable battery, while Xiaomi MI2 using regular battery which can be replace by the user. The button in the two smartphone is different, as you can see on the picture above, both smartphone has different method to place the physical button while the soft button is same since both phone using Android operating system.
Screen Contrast
The the LG Nexus 4 and Xiaomi phone screen is very pretty, both phone packs with a single glass all really amazing feeling fit technology, the screen and the integration of the front panel is very bright and clear.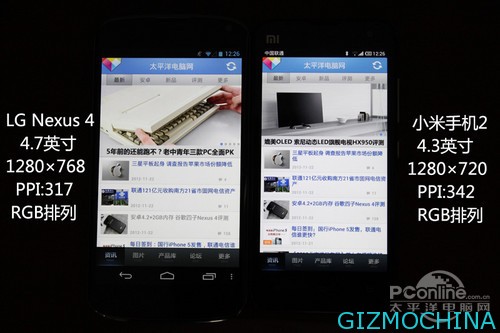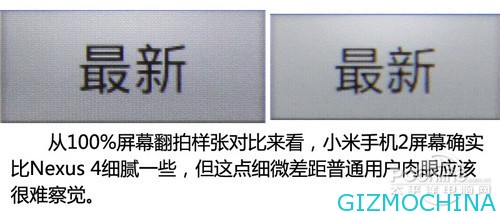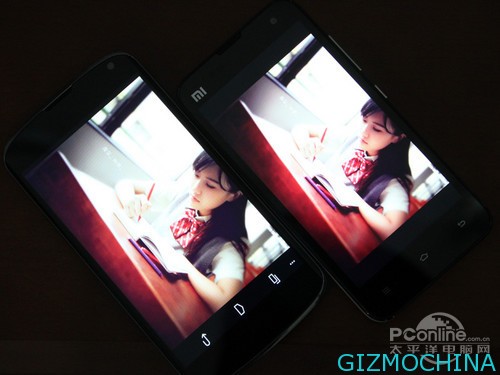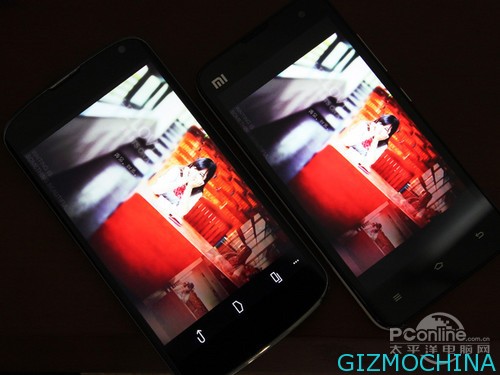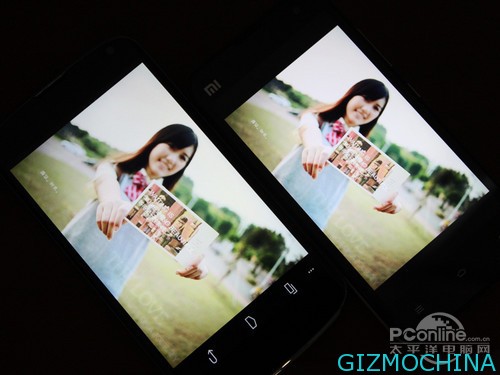 While Xiaomi packs with 4.3 inch screen is relatively small, and the Nexus 4 offers 4.7-inch screen size with 720P resolution compression (Nexus 4 actual resolution is 1184 x 768) and Xiaomi MI2 single-screen display not too larger but the 4.3 inch screen is large enough for smartphne I think. But with 4.7 inch screen size on the LG Nexus 4 is more comfortable for user offcourse.
Comparing the Systems
LG Nexus 4: Native Android 4.2 operating system
Nexus 4 is the official smartphone come from Google, so this smartphone naturally equipped with the latest Android 4.2 operating system, but the code still maintain Jelly Bean while we all know about the Android 4.1 also called as Jelly Bean, so this is to be regarded as a small upgrade, the following we briefly outline its major new Characteristics.
Android 4.2 continue to adopt the name of the Jelly Bean, and support for tablet and mobile devices. The Android 4.2 has Android 4.1 overal aspect consistent and improved in some details, the new features include:
Shooting panoramic photos
Keyboard support sliding input
Quickly set up account
Gmail support text zoom
Increase accessibility features: finger zooming, panning the main screen, increase the output of voice and gesture mode navigation designed for blind users
Miracast support wireless display sharing
Google Now View Gmail, flight information, suggesting important activities.
Interestingly, Google has added Apple iOS6 system to the panoramic camera feature, since many users use a very high frequency photographed, so the Android system update, which added a panoramic camera is also very necessary.
Phone input interface: users can continuously sliding keyboard, the phone will be identified according to the sliding track input text, this input will increase input speed, of course, may use this feature for the first time in the input accuracy relatively poor, there will be more good input experience familiar.
Notice in the phone's interface, the user can quickly jump to the settings interface can also switch to a different phone usage patterns in the notification interface. The original switch accounts must be completed to set unlock interface, you can quickly switch between different accounts.
Miracast function games or video phone by wireless screen projection to a compatible TV, sharing becomes more simple.
The upgraded Google Now can greatly reduce the frequency of use of the mobile phone calendar function, because before the advent of the important dates, it will prompt you  with right information.
The increases are not large, you can see that this update has not changed from Android 4.2 Jelly Bean Code is the perfect system function and change it a little and still maintain a decent fluency and stability. In fact, the Android system has experienced several years of development time, system architecture and functionality has gradually matured, and now seems to have no major modifications to the system. Small change of the Android 4.2 system sound wise not risky.
Xiaomi MI2: Android 4.1 Jelly Bean operating system
Xiaomi phone is powerd by Android 4.1.1 Jelly Bean operating system, in addition packs with MIUI v4 user interface which made by their developer as native user interface. If we comparing the system, the Xiaomi system is quite mature, but we can get the stability, better battery performance and easy of use, there are very considerable progress, and its personalized design user praiseworthy.
MIUI V4 new features
The Xiaomi MI2 smartphone equipped with the latest depth custom MIUI V4 system, became the first domestic mobile phone equipped Jelly Beans operating system, adding many Android 4.1 features, the system faster, smoother, and more humane. MIUI been plenty of user groups at home and abroad, but many people do not know how to call it, the official MIUI change a Chinese name – meter grapefruit, so that later they can more easily be promotion.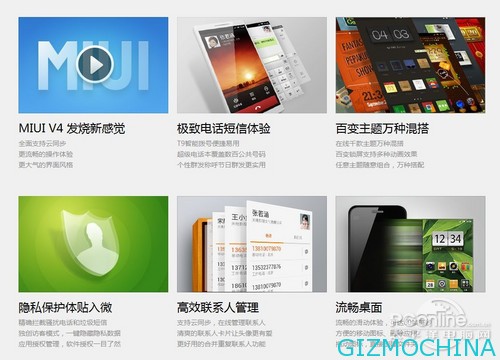 Came to the set menu, which is more intuitive and native Android 4.1 system is similar. However MIUI interface divided into commonly used settings with two pages of all settings, such as commonly used pages can list users while ignoring more setting options less frequently used settings, does MIUI consider user convenience needs has a unique side.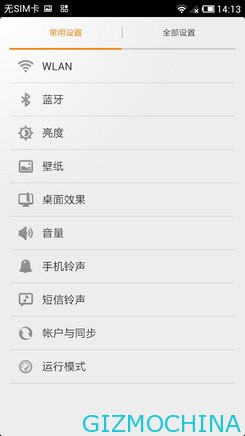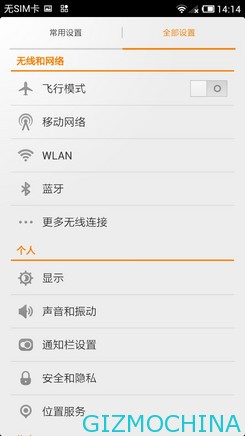 Theme library is one of the most outstanding feature of MIUI, this the MIUI V4 version of the rich to optimize the theme application. Further enrich topics online library addition to can the whole theme download, you can also keep the number of different parts of the theme to mix and match, and the lock screen, adding a number of animation, you can make it easier for users to more easily build their own personalized phone theme appearance.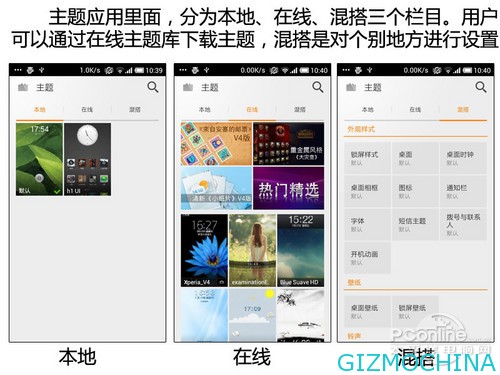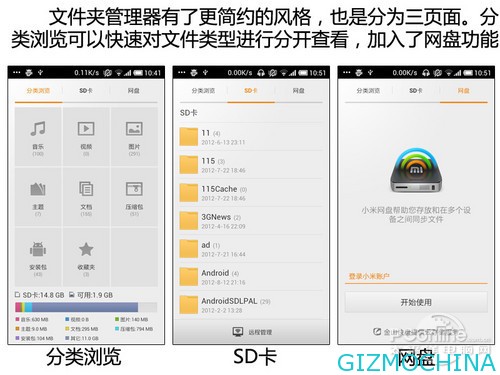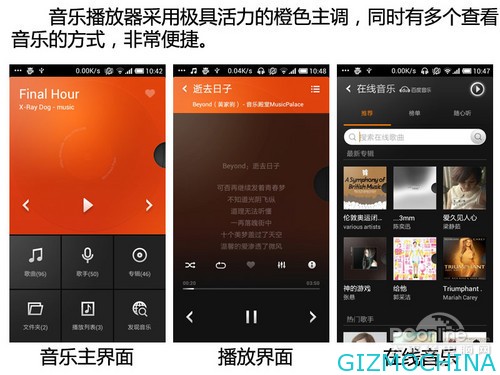 The MIUI V4 system comes with the program which can still easily visible. Theme libraries become more intuitive and convenient operation, and the growing number of online theme, after a long time of development, the number of very rich theme. The classification file manager view is also convenient to the users to quickly summarized the file, find it easier, and joined the now popular network disk simply use millet log in to. Secondly, the music program has changed the main colors, the more lively, swinging to switch songs, online music content becomes more substantial.
Whether LG the Nexus 4 using native Android 4.2 system or Xiaomi smartphne use MIUI system, have different characteristics, there is no absolute pros and cons of the above is just the introduction of the two systems, rather than contrast.
 Hardware performance comparison
In terms of core hardware, LG Nexus 4 and Xiaomi MI2  smartphone are the strongest configuration of the mobile space today are used currently known as the strongest performance quad-core processor – Qualcomm Snapdragon S4 Pro APQ8064 running at 1.5GHz clock-speed. The most outstanding feature of the processor is using the 28nm process, Krait architecture, built-in Adreno 320 GPU, are quite good in terms of performance and power consumption. Both phones are made of the highest 2GB of RAM, reducing the bottleneck caused by the memory system support for multitasking process.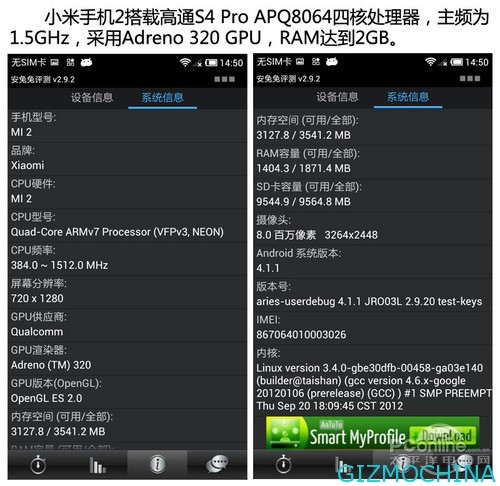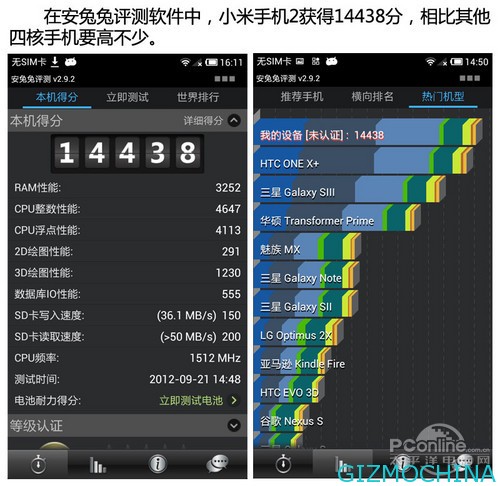 Nexus 4 camera interface
The Nexus 4 with 800-megapixel main camera and 1.3 megapixel front camera, built-in Android 4.2 system compared to the 4.1 version of the updated camera interface.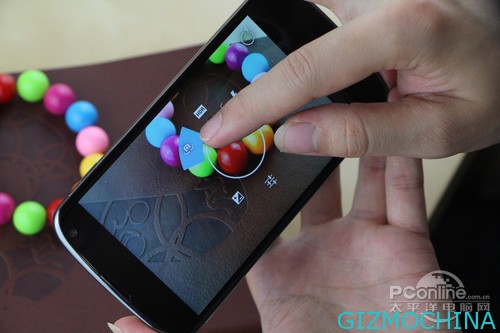 The ring layout photographed option is a major feature of the Android 4.2 system, the full sense of science and technology, including switching master / slave camera HDR mode, flash, contrast, white balance and set six options.
Xiaomi MI2 phone camera interface
Xiaomi phone camera and enhance pixel, but maintain the previous generation 800-megapixel, back-illuminated second-generation CMOS structure. F2.0 large aperture and a 27mm wide angle, and can improve the ability to take pictures in low light and shoot more liberal momentum picture.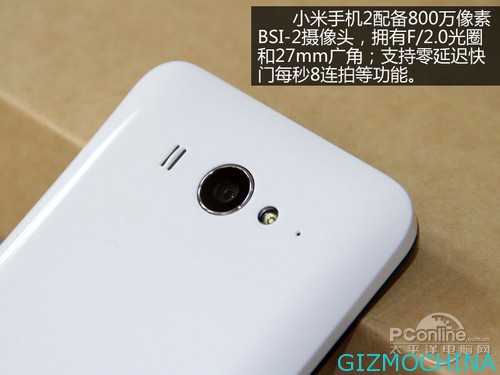 Compared MIUI 2.X era with native Android 4.0 system, camera viewfinder on the change is still getting bigger, MIUI V4 re-photographed interface redesign. The camera button in the middle is more prominent, larger easy touch. The setting options are hidden, press the lower right corner of the small arrow appears shortcut options.
Into the front camera to the viewfinder screen relative to before some changes at the top, mainly dedicated camera / video button to move from the upper right corner to the middle, and the upper-right corner of an increase of a front and rear camera toggle button.
Xiaomi mobile phone also offers some camera shortcut option, press the arrow can be quickly set up, in order to more detailed settings such as AF mode, metering mode, sharpness settings, we want to enter into a detailed phone modify camera option inside. This both fast and comprehensive design also reflects the MIUI attainments humane.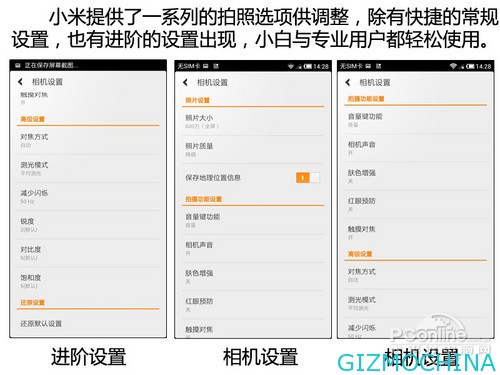 Above is the introduction of the two part set by the camera viewfinder, more detailed "Nexus 4 review: The new camera interface and functions | proofs" millet phone 2 evaluation: upgrade the BSI-2 F/2.0 camera ability test ". In the process of making photographs, small realized that he needed some time to adapt to the Nexus 4 new camera focus mode, the focusing circle a lot bigger, so the manual touch focus more often out of focus or direct virtual out of the situation, but rely on strong configuration and better native optimization, the camera imaging speed and focusing speed is very fast.

Purchase and price analysis
Nexus 4 abroad Google Play Store started selling, 8GB version for $ 199, or about 1900 yuan, while the 16GB version is slightly more expensive, about 2200 yuan. But just on sale when a smaller number, plus cheap was Fengqiang. Nexus 4 has confirmed that will not be officially listed in the country, which means if you want to buy a Nexus 4 only to parallel business. Initial parallel to discuss not many, so the price is compared to the official price of expensive on 1,000 yuan, but only scattered few stores stock purchase high degree of difficulty, the price is high.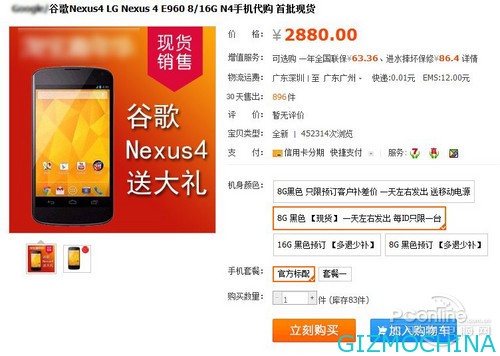 Xiaomi MI2 phone purchase domestic licensed official pricing for 1999 yuan, warranty and after-sales service is better than the Nexus, but also resulted in a small number of batches snapped its very difficult to buy. If you want to buy Xiaomi phone, in addition to the official website snapped, can also be purchased to Taobao merchants, but the price is higher than the official price of nearly $ 1,000 price to endure. Similarly, Xiaomi phone is also purchase difficult, the price is high.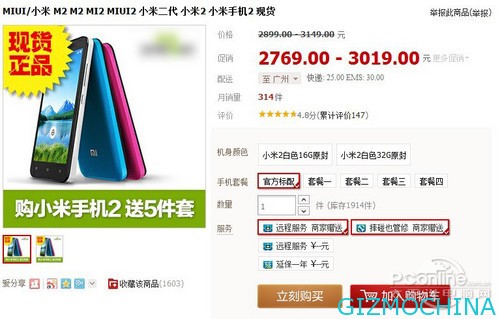 ● Summary
Nexus 4 phones in the early release, with superior configuration and low prices, as well as orthodox blood, a lot of friends dubbed the killer then the limelight Masamori the millet phone. The fact that there is actually just the core hardware configuration consistent only in design, material workmanship and other aspects of the system optimization is different. Through the approximate comparative analysis above, I believe that the users are on an understanding of the differences in various aspects of the two models.
In small series at Nexus 4 advantage is that the official support of the native Google official system in a timely manner to push followed in material workmanship with good texture; Xiaomi  phone systems may there will be more bugs, but the official update in a timely manner, and more features rendering depth customization, ideal for play machine enthusiasts use. But both have a common drawback, it is difficult to purchase even be able to buy will be purchased at a high price. Perhaps until the time of the Nexus out more shipments, revised machine market price tends official pricing, time is a good time of purchase. I hope to buy Xiaomi phone friends only expect official capacity upgrade.