Onda V927, Android Jelly Bean tablet with quad-core and retina display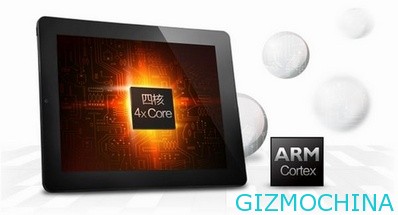 Now is the era of tablets and smartphones with high-resolution screens. The few manufacturer has been built their device wich packs with the high-resolution secreen, such as HTC Butterfly, Google Nexus 10 and Apple's New iPad. Everything is high-end devices, with high prices, but the Nexus 10 is still quite affordable, although not cheap either (around $400 USD)

Now there is another option for you. The one of Chinese manufacturer, Onda, has been released the V927 tablet, packs with 9.7-inch screen diplay and has 2048×1536 pixels resoluti on- exactly the resolution and dimensions as sama as with the New iPad screen. The price of Onda V927 is relatively affordable araound  $ 240. The screen itself uses retina display systems IPS capacitive type.
Other features are also quite impressive, including: Android 4.1 Jelly Bean (soon to be updated to 4.2), the dimensions of the body is almost as thin and light as the iPad which is 649 grams, 2GB RAM, 16GB storage with a micro SD slot, 2MP and 5MP camera, and 8000 mAh battery. Quadcore processor based on Cortex A7. While the GPU is using Power VR SGX544MP2. Unfortunately, there is no cellular capabilities in Onda V927 tablet device.