Lenovo quad-core smart phone K860i parameter expose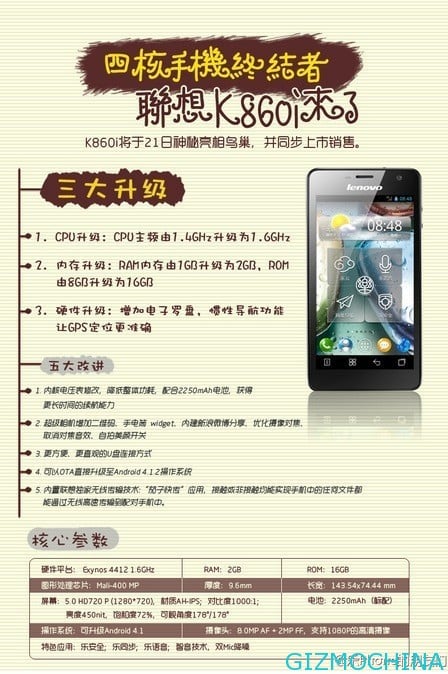 The highly anticipated Lenovo quad-core smart phone K860i today formally exposed more parameters, according to official microblogging disclosure of Lenovo, Lenovo the K860i completed by a number of important upgrades fellow Products K860, including CPU frequency 1.4GHz speeding elevated to to 1.6GHz.

The RAM memory upgrade from 1GB to 2GB, while ROM upgrade from 8GB to 16GB; New electronic compass, inertial navigation and other functions. The phone will officially go on sale on December 21, but the price has not been announced.
Official information display, Lenovo K860i detailed specs including: equipped with 1.6GHz Exynos 4412 quad-core processor, running Android 4.1.2 operating system, sports with 2GB RAM, 16GB ROM, 5-inch 720P resolution IPS screen, 8 megapixel back-illuminated camera, 2250mAh battery, supports both WCDMA and GSM while the standard body weight 195g, available for black and white options.
In addition, Lenovo K860i also has several major improvements in functionality. Endurance: kernel voltmeter modified to reduce the overall power consumption, with the 2250mAh battery, longer endurance; built-in camera application: super camera to increase the two-dimensional code, the flashlight the widget, built-in Twitter Share, optimize camera focus, switch to cancel focus sound and self-timer for camera; While operating system can be upgradebale via OTA directly and upgrade to Android 4.1.2 operating system; transmission technology: built-in Lenovo exclusive wireless transmission technology "eggplant fast pass" application, contact or non-contact any files in the phone through a wireless high-speed transmission to the paired mobile phone, as well as more convenient and intuitive U disk connection.
After the news, Lenovo K860i will be available as official time-to-market for December 21, this statement is Lenovo official has been confirmed. The official website also revealed that the phone will be listed on the date of synchronization sales, but the exact price is still confidential stage.