Huawei Ascend D2, Windows Phone 8 re-exposure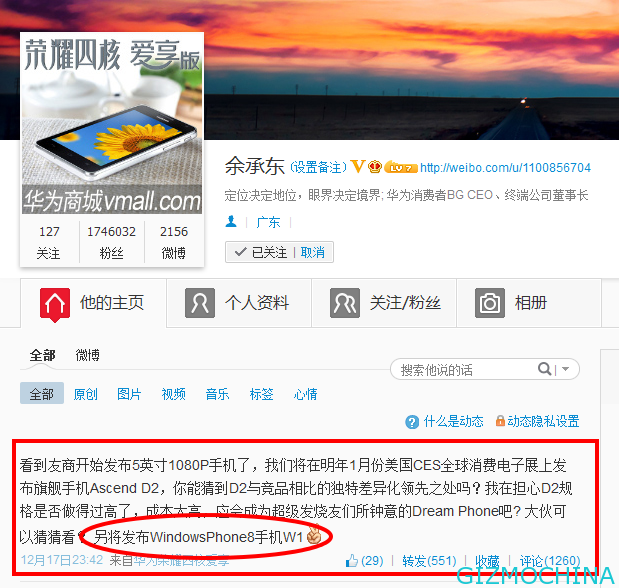 Prior to Huawei's chief marketing officer, said the 5-inch 1080p phone will be launched in the CES 2013, now chairman of the company's Yu Chengdong, not only to confirm the identity of the smartphone, but also revealed its first WP8 phone with appearances.

This 5-inch smartphone from Huawei is the Ascend D2, after the official PPT has been shown, it is equipped with 1080p touch screen (narrow border design), while equipped with 1.5GHz quad-core processor (model should still Hass K3V2 RAM should be is the mainstream 2GB), and providing a 13 megapixel camera and 3000 mAh capacity battery.
In addition, Yu Chengdong also revealed that CES 2013 will launch its first Windows Phone8 phone W1, a lot of rumors are priced at 1,499 yuan. W1 with a 4-inch 800 × 480 screen, equipped with a 1.2GHz the Qualcomm S4 dual-core processor, built-in memory combination of 512MB + 4 GB ROM, 5 megapixel camera ( 3 megapixel front facing camera) and 2000mAh capacity battery.
If nothing else, then, in addition to Huawei W1 should also together with the launch scheduled for another Huawei WP8 phone is Huawei Ascend W2.