The picture of ThinkVision LT1423p portable screen from Lenovo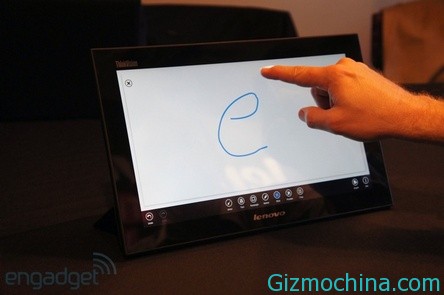 After we've covered the news about the Lenovo product lines that will be shown at CES 2013, is now we have a detail picture of ThinkVision LT1423p, the portable screen which support for touch screen capability using stylush.

Lenovo ThinkVision LT1423p is a portable monitor with a 13.3 inch screen size. With a weight of 1.6 pounds, this monitor is certainly light enough to carry it everywhere. Additionally, pulling this monitor has two connectivity options, through cables or wirelessly. So you can choose between USB 3.0 cable or cordless version using WiFi connection.
For the wireless version, this monitor is powered by battery that claimed ca be used up to 10 hours. With a resolution of 1600 x 900 pixels, this monitor is also equipped with a protective Gorilla Glass. Interestingly, this monitor supports the use of the pen as one input method.
This monitor will go on sale in the second quarter of this year at a price of $349 for the cable version while the wireless version is oofers with $449 price.