The new UMI X1, UMI X2, and UMI Mini smartphone is ready to launch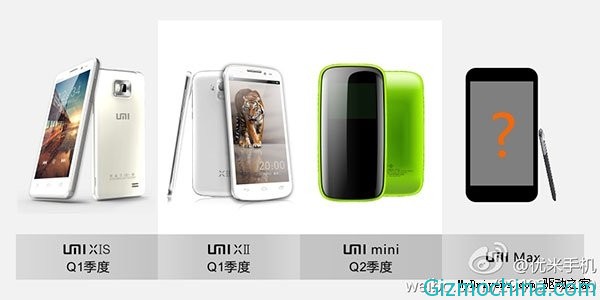 A lot of news that the UMI Mobile will launch a new product called the UMI X2 phone, It is a high quality UMI smartphone on the newly released 2013 roadmap, the company this year total will launch four new excellent smartphone to the market.

The first is the hardware configuration is very good quality thats UMI X2. According to official sources, the high quality UMI X2 has ultra narrow design, equipped with a 5 inch 1920×1080 screen as well as the higher, powered by 1.2GHz MediaTek MT6589 quad-core processor, built-in 2GB of RAM, 32GB of ROM, providing a 13 megapixel main camera and 1.2-megapixel front-facing, equipped with a 2500mAh battery and supports GSM / WCDMA dual card dual standby function, this phone is running Android 4.1 jelly bean oeprating system.
In accordance with previous messages, the high quality of UMI X2 will officially released this month, and will be listed in February.
According to the roadmap, will debut in the first quarter with quality UMI X1S Although the configuration is currently unknown, but it can be speculated that the smartphone should be upgrade version from UMI X1 smartphone thats has been already released, which uses a 4.5-inch 720p screen, equipped with 1GHz MTK6577 dual-core processor, built-in 1GB of RAM, 4GB of ROM, sports with 8 megapixel camera and 2.0 megapixel front-facing camera and powered by 1750mAh battery capacity, running Android 4.0, and supports dual card dual standby.
In addition, the mobile phone of high quality UMI Phone is also preparing two new devices are excellent second quarter thats UMI Mini smartphone ehich will be has mini size that the predecessor, Unfortunately there is no information about the release date and price, so we have to wait until UMI officially announce thos phones.