Short review of UMI X2 smartphone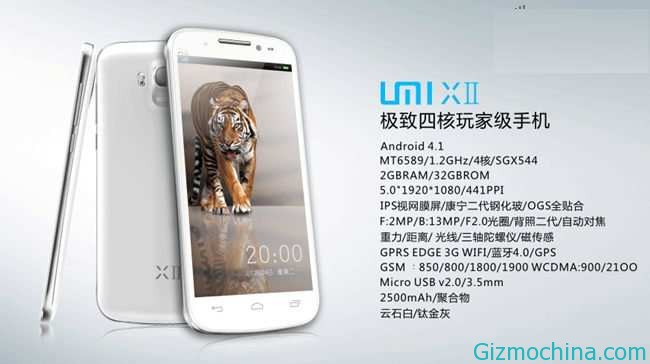 We've covered the news about new UMI smartphone lineup, and now we have the information taken from the user from UMI forum, the user who has nickname SuperMan has been write his short review about the new UMI X2 smartphone.

Comfortable to grip and nice design:
The quality UMI X2 constantly try new design, the use of ergonomic Let's get more comfortable to grip. Thus, we find that the sleek curved design, the perfect arc provides perfect control over the experience, and slim, lightweight body. For this design, we have no reason to refuse.
Ultra-narrow border:
Ultra-narrow border design can not only provide greater screen display, the perfect fusion of the screen with a border, bring more superior display. The quality UMI X2 black edges together with the front panel is only 2.5mm, surface shell thickness of only 0.6mm, the total border control in less than 4mm. The ultra-narrow bezel allows us to ensure a comfortable operating experience at the the increase screen display at the same time.
Screen perfect proportion:
In order to ensure a first-class display screen 16:9 golden ratio, the more superior, more coherent whole appearance. Seamless, we hope you felt the first time no unexpected rapport.
Slim design:
We have always advocated the slim design, and lightweight grip more intimate. In order to guarantee to provide users with a more lasting endurance, as well as the most sturdy body. We used the design of thickness 8.9mm. Of course, in order to ensure that the thin texture, high quality UMI X2 mining radians rounded design of the back cover to avoid plastic fuselage heavy bring sense.
High-performance using low-power chip:
The final quality of UMI X2 smartphone determine the quad-core chip based on Cortex-A7 architecture, state-of-the-art 28nm process to build the MediaTek MT6589. MT6589 is considered to be the most energy-efficient chip, built PowerVRSGX 544 graphics processor ARM history. Bring extraordinary experience of operating in both high performance and low power consumption the MT6589 will provide excellent performance, no matter what prejudices exist, only the MT6589 able to meet us half-price can have a flagship.
The memory RAM and ROM:
Even equipped with 2GB of RAM  and 32GB of ROM. We know, the higher RAM makes multitasking run smoother, even use a variety of software will still be able to maintain fluency manipulation. Although the cost of RAM exorbitant cost doubled, but what is able to stop our pursuit ultimate footsteps? 32G is large enough for internal memory, to meet all of your needs, we no longer worry about memory mass storage.
Ultra-high pixel camera:
The quality UMI X2 Configuration 2.0 megapixel front-facing camera. While the rear camera is packed with 13-megapixel camera, will bring greater sharper shooting, while supporting for 1080P video capture and panorama shooting. Bring greater the amount of light through a large aperture of f2.0, shooting experience that will bring even more stunning in detail and embodies. We focus on the optimization upgrade, thanks to optimization of the drive and processing, we break shooting again limit!
The 1080P screen:
The ultra-high resolution display, 5-inch 1920 x 1080 pixel density of up to 441 PPI. By IPS retina screen is not only a brilliant show, and at the same time provides a wider viewing angle. Using OGS a thoughtful together technology will enable a more realistic and clear display, color reproduction and fine detail embodies absolutely impeccable. Both audio and video entertainment or games, instant spike optic nerve. Extreme, from direct sensory experience!
Using second generation Gorilla Glass from Conring :
We learned that the larger size of the screen means that the more fragile for external panel. The second generation Gorill aGlass from coring will protect on the routine using the device – scarth resistant, sturdy tempered glass to ensure more effective protection of the screen in the use of high-strength and bump.
Dual network dual standby:
This phone is equipped with dual card dual standby, convenient SIM card management to use more colorful and interesting. This very stable for work, daily life, network roaming, One more card is easier! Dual card is not a cottage, only let you use more convenient!
Large-capacity battery:
In order to maintain life, we have been trying. Android 4.1.2 based on adding more power optimization with high quality UMI X2 smartphone which powered by 2500mAh large capacity battery, the more durable the use of time.
Listing:
We offer you two classical marble white / titanium gray color, UMI X2 will be released in the first quarter of 2013 in late January, officially listed in February, priced at 1,499 yuan or around $240 USD.