HTC One heading to 80 country, including China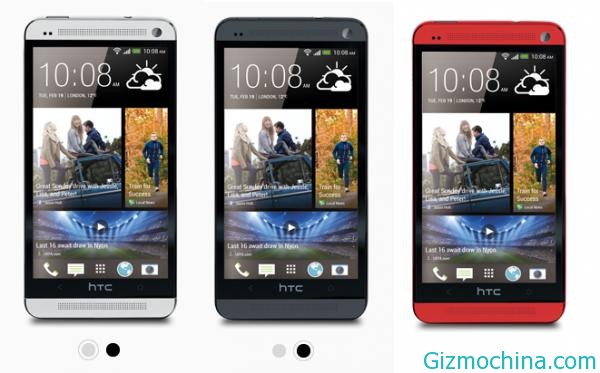 HTC One has been announced by HTC on February 19th, and according to press release from HTC, the ready to ship the new HTC One smartphone to 80 country, including China.

Starting on March 2013, HTC will ship the new HTC Phone for global market, there are more than 185 mobile operators and major retailer in more than 80 country. For more information related to HTC One, visit the official website at www.htc.com.
HTC One has been equipped with 4.7 inches touch screen that supports 1080p FHD resolution. The presence of 468 pixels per inch is the highest in the market today. To support the performance of the system itself, this phone has also been supported by the reliability of the quad-core 1.7GHz Snapdragon 600 APQ8064T plus 2GB of RAM. In addition to available in 32GB and 64GB versions, HTC One is also available in several colors such as Black, White and Red.
HTC One is touted as one of the latest flagship smartphone from HTC since this phone brings Ultrapixel cameras and even with the presence of HTC Sense 5 user interface.
Here are the list of mobile operator that ready to bundling HTC One smartphone:
Europe, Middle East and Africa: 1&1 Germany, A1 Telekom Austria, AB Poland, Allo Ukraine, AMC (Cosmote) Albania, Avea Turkey, Beeline Kazakhstan, Belcompany Netherlands, BH Telecom Bosnia & Herzegovina, Bite Latvia, Bite Lithuania, Bouygues Telecom France, Carphone Warehouse UK, Cell C RSA, Citrus Ukraine, Cosmote Greece, Cosmote Romania & Global Bulgaria, Cyta, DT Mobile(TS) Latvia, Du UAE, Dustin Sweden, Eagle Mobile Albania, EE UK, Elisa Estonia, Elisa Finland, El-Giganten Denmark, El-Giganten Sweden, Elkjöb Norway, EMT (TS) Estonia, E-Plus Germany, ERC Ukraine, Euroset Russia, Gigantii Finland, Go Malta, H3G Austria, H3G Denmark, H3G Italy, H3G Sweden, H3G UK, HT Eronet Bosnia & Herzegovina, K-Cell Kazakhstan, KPN Belgium, KPN Netherlands, Life Belarus, LuxGSM Luxembourg, Megafon Russia, Melita Malta, Meteor Ireland, Mobilezone Switzerland, Mobilochka Ukraine, Mobily KSA, MSH Belgium, MSH Germany, M-Tel Montenegro, M-Tel Bosnia & Herzegovina, MTI Ukraine, MTN Cyprus, MTS Belarus, MTS Russia, Netcom Norway, (Telefónica) O2 Czech, (Telefónica) O2 Germany, (Telefónica) O2 Ireland, (Telefónica) O2 UK, Omnitel Lithuania, One Macedonia, Optimus Portugal, Orange France, Orange Maldova, Orange Poland, Orange Romania, Orange Slovakia, Orange Spain, Orange Switzerland, Partner Communications Israel, PhoneHouse France, PhoneHouse Germany, PhoneHouse Netherlands, PhoneHouse Sweden, Phones4U UK, Play Poland, Plus Communication Albania, Polkomtel Poland, Proximus Belgium, SFR France, SiMobil Slovenia, STC KSA, Sunrise Switzerland, Svyaznoy Russia, Swisscom Switzerland, TDC Denmark, Tele2 Croatia, Tele 2 Estonia, Tele2 Latvia, Tele2 Lithuania, Tele2 Russia, Telia Denmark, Telia Sweden, Telekom Slovenija, Telenet Belgium, Telenor Denmark, Telenor Norway, Telenor Sweden, Telenor Hungary, Telenor Serbia, Telkom Serbia, TIM Italy, TMN Portugal, T-Mobile Austria, T-Mobile Croatia, T-Mobile Czech Republic, T-Mobile Germany, T-Mobile Hungary, T-Mobile Macedonia, T-Mobile Montenegro, T-Mobile Netherlands, T-Mobile Poland, T-Mobile Slovakia, Turkcell Turkey, Tus Mobil Slovenia, Velcom (TAG) Belarus, VIP Operator Macedonia, VIP Mobile Serbia, Vipnet Croatia, Vivacom Bulgaria, Vodacom RSA, Vodafone Albania, Vodafone Czech Republic, Vodafone Egypt, Vodafone Germany, Vodafone Greece, Vodafone Hungary, Vodafone Ireland, Vodafone Italy, Vodafone Malta, Vodafone Netherlands, Vodafone Portugal, Vodafone Romania, Vodafone Spain, Vodafone Turkey, Vodafone UK, Wind Greece, Wind Italy, Yoigo Spain, Yug Contract Ukraine, Zain KSA.
APAC: China Mobile Hong Kong Company Ltd., ChungHwa Telecom, 3HK, CSL, Fareastone, M1, Mobifone, Optus, PCCW mobile, Reliance Communications, Singapore Telecommunications Ltd., SmarTone, StarHub, Taiwan Mobile, Telecom New Zealand, Telstra, Vodafone Australia, Vodafone New Zealand.
China: China Mobile, China Unicom, China Telecom
North America: AT&T, Sprint, T-Mobile, Cincinnati Bell and Best Buy in the United States and in Canada with Rogers Communications, Bell Mobility, TELUS and Virgin Mobile Canada.
Latin America: Claro Argentina (América Movil), Telecom Personal Argentina, Entel Chile, Iusacell México, Telcel México (América Movil), Claro Perú (América Movil), Claro Puerto Rico (América Movil), Movistar Venezuela (Telefonica).