Alcatel One Touch HD Evo 7, Android tablet with 1.6GHz Cortex-A9 chipset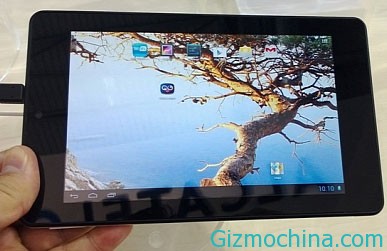 Alcatel also helped bring its flagship products such as the One Touch Idol X, One Touch Fire, One Touch Star and One Touch Evo 7 HD tablet. The latest products is 7-inch Android tablet device come from Alcatel.

This new 7-inch tablet is ready to enter the market with HD IPS touch-screen technology, especially the more powerful processor with Cortex-A9 with a clock speed of 1.6GHz and sports with 1GB of RAM. Not only that, this tablet is bundled with a 4GB internal memory for the standard model, which will remain the Alcatel will provide the option of an internal memory of 8GB and 16GB.
For terms of connectivity this tablet is supported for 4G LTE, HSPA+ 21Mbps, Wi-Fi and Bluetooth 4.0 capabilities. If you like a photo, it will be quite satisfied with the presence of dual cameras, a 3 Megapixel rear camera and a VGA front camera that can be used for video call.
This tablet is also equipped with a microSD slot, microUSB port, 3.5mm headphone jack for listening music. Unfortunately not mentioned in detail when these tablets will be marketed or how the price range will be offer.