Samsung Galaxy S 4 vs BlackBerry Z10 comparison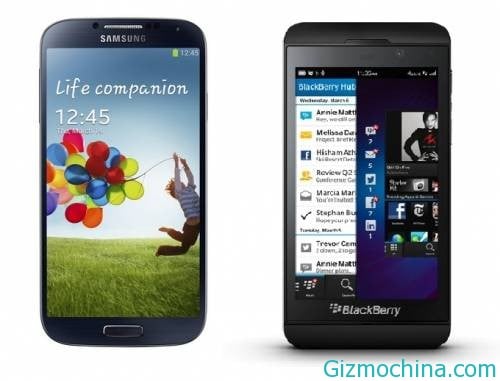 After we've covered the news about the new flagship smartphone from Samsung, Galaxy S 4, is now we have many information regarding head-to-head comparison between Galaxy S 4 device with the other smartphone on the market today, and here is the comparison between Samsung Galaxy S 4 versus BlackBerry Z10.

As we know, the BlackBerry Z10 is the latest smartphone from BlackBerry which has a new core OS'es since the company chage their core system from Java-based system to QNX system.
And here is the comparison on some aspects :
SIZE
Galaxy S4: 5.3 inches x 2.74 inches x 0.3 inches; weighs 4.5 ounces
BlackBerry Z10: 5.12 inches x 2.58 inches x 0.35 inches; weighs 4.78 ounces
DISPLAY
Galaxy S4: 5-inch, full HD Super AMOLED screen; 1920 x 1080 resolution
BlackBerry Z10: 4.2-inch; 1280 x 768 resolution
PROCESSOR
– Galaxy S4: Eight-core Exynos 5 chipset clocked at 1.6 GHz supported by 2 GB of RAM. U.S. will have Qualcomm's quad-core Sanpdragon S4 Pro processor clocked at 1.9 GHz
– BlackBerry Z10: Qualcomm's dual-core Snapdragon S4 processor clocked at 1.5 GHz supported with 2 GB of RAM
STORAGE
Galaxy S4: 16GB, 32GB and 64GB models, up to 64GB with micro SD
BlackBerry Z10: 16GB model; up to 64GB with micro SD
CAMERA
Galaxy S4: 13-megapixel rear camera; 2-megapixel front
BlackBerry Z10: 8-megapixel rear camera; 2-megapixel front
BATTERY LIFE
Galaxy S4: No details from Samsung. We will update when it becomes available.
BlackBerry Z10: Standby: 13 days; Talk time: 10 hours
AVAILABLE APPS
Galaxy S4: 700,000
BlackBerry Z10: 70,000
KEY FEATURES
Galaxy S4
Dual Camera: Takes photos and video with the front and rear cameras simultaneously. Supports video calls with both cameras.
Group Play: Share photos, documents, games between phones without Wi-Fi, cell connection
BlackBerry Z10
BlackBerry Balance. Create multiple profiles for personal, work, other needs.
BlackBerry Hub. Quick swipe left of screen to access email, other functions while using any app.
BlackBerry Z10 has the smart keyboard that's allow user to type more accurate with prediction word that may occurs, while the Samsung Galaxy S 4 has built in SwiftKey keyboard which allow user to swipe their finger to soft keyboard and has prediction words too.