The Xiaomi release the new smartphone in China today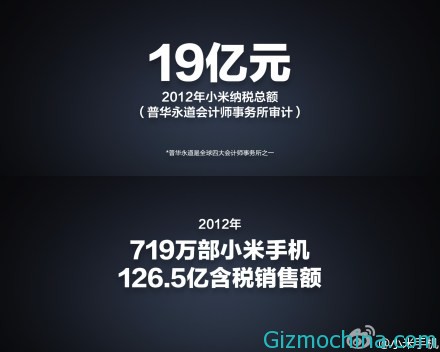 On two o'clock of beijing time, Xiaomi has been unveiled their new Android smartphone to the public. As we mentioned before, this event is all about the new Xiaomi smartphone.

Lei Jun, as a chairman of Xiaomi technology announced at the scene: in 2012 Xiaomi has been sold a total of 7.19 million Xiaomi smartphone, tax sales of $ 126,5 billion. PricewaterhouseCoopers Audit, during 2012, Xiaomi has tax amounted to $ 1.9 billion.
Xiaomi smartphone is using MIUI system; On August 16, 2011, Xiaomi released the first dual core smartphone with 1,5GHz, while on August 16, 2012, Xiaomi release the smartphonw with 28 nm quad-core technology from Qualcomm.