Six New Devices Running On Aliyun OS Unveiled In China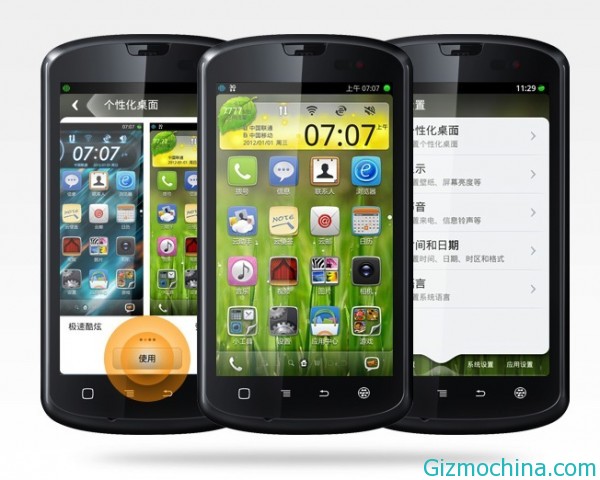 Aliyun OS or better known as Ali Cloud OS in the English version is a Linux distribution platform designed for smartphones. The platform itself was developed by AliCloud which incidentally is one of the Alibaba Group subsidiary based in China.

In line with its development since the year 2011, these operating systems have drawn the attention of producers in China. Earlier today, six new devices running on Aliyun OS were unveiled in China. Zopo has two new devices and the rest are from G'Five, Konka, Amoi and Small Chili.
The first is a high end device Zopo Black, which is equipped by a 5-inch touch screen features with support for 1080p FHD resolution, MediaTek MT6589 processor Quad Core 1.2GHz, 1GB of RAM, 4GB of ROM, 5MP rear camera, 1.3MP front camera and 2000mAh battery. While the second is the existence intake Zopo White features 5-inch touch screen HD 720p, 8MP rear camera, 2MP front camera and the rest is similar to Zopo Black.
The third device is G'Five Big 7 is equipped with a 5.7-inch 720p HD screen, quad-core processor 1.2GHz MediaTek MT6589 and 2500mAh battery. While the fourth and fifth, respectively Amoi Big Ka (which is equipped with 4.5 inch touch screen, quad-core processor MediaTek MT6589, 8MP rear camera and 3MP front camera) and Konka KOMI V1 (which has a display screen that is similar to Big Amoi Ka but with a Dual Core processor MediaTek MT6517T). And not only that, for the sixth named Small Chili M1Y also been supported by MSM8225Q Snapdragon processor.
All devices that have been mentioned just now apparently now been marketed in China with a price range between 899 RMB or around $140 USD to 1,999 RMB or around $323 USD per unit.