HTC One spotted in Japan as HTC One J HTL22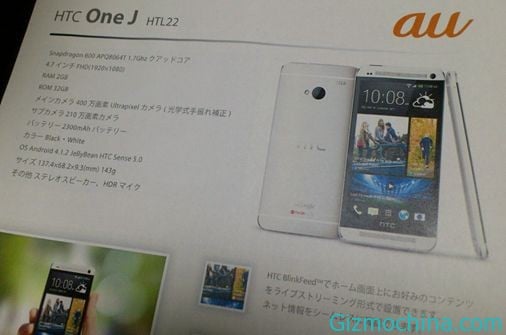 Besides HTC One 802t for the Chinese market, other variants of HTC now specifically for the Japanese market is called the HTC One J HTL22.

The HTC One J HTL22 is the HTC One variant would be under the KDDI in Japan. From the leaked brochure, HTC One J HTL22 figure who mentioned having a similar design as the HTC One global version.
Even so, in essence flyer circulating in Japan are not revealing specifics about the HTC One J HTL22 similar with the HTC global version. And for more details, here are the specs of the HTC One J HTL22:
– Display: 4.7-inch sized LCD 3
– Resolution: 1920 x 1080 pixels (468ppi)
– Processor: Qualcomm Snapdragon 600 APQ8064T
– RAM: 2GB
– Internal memory: 32GB
– Camera: Ultrapixel (in the rear) and 2.1 megapixel (front)
– OS: Android 4.1.2 Jelly Bean
– Dimensions: 137.4 × 68.2 × 9.3mm
– Weight: 143g
– Battery: 2300mAh
– Color: Black and white