Edimax AC1200 DUAL PACK, Router and Adapter Combo With 802.11ac Support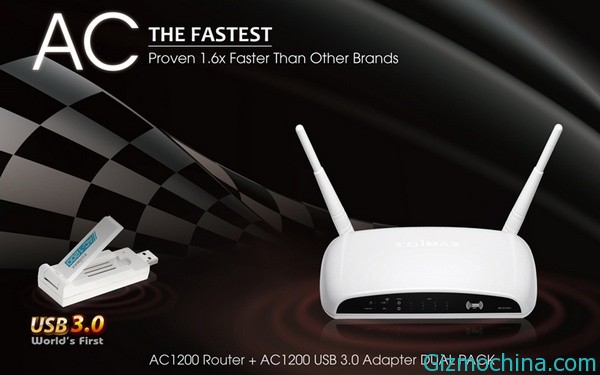 Fast network access solution that offers ease of use bandwidth on wireless networks, has recently been presented by the electronics manufacturer based in Taiwan called Edimax Technology in a combined package AC1200 DUAL PACK device consisting of a WiFi router AC1200 and AC1200 USB 3.0 adapter with support 802.11ac.

Edimax AC1200 DUAL PACK is an advanced software package that combines a wireless router with a USB 3.0 adapter in the world's first 802.11ac WiFi, which is where both devices are equally supporting 802.11ac wireless standard and dual-band wireless internet 2.4Ghz/5GHz for high speed access.
In the presence of 802.11ac support, make AC1200 DUAL PACK is able to deliver speeds Internet access of up to 300Mbps on the 2.4GHz bandwidth and access speed of 867Mbps at 5GHz bandwidth. Both devices are compatible with 802.11a/b/g Wifi connectivity pathways.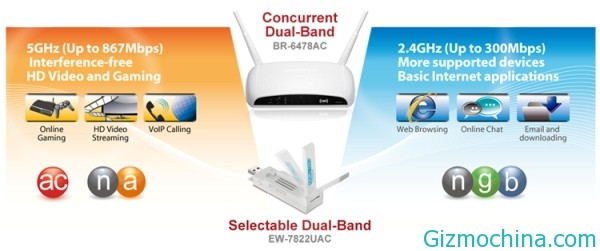 AC1200 Wireless router (Model: BR-6478AC) is equipped with a Gigabit LAN port, four Gigabit LAN ports and two dual-band antenna 3dBi. While 802.11ac USB 3.0 adapter (Model: EW-7822UAC) is the fastest USB WiFi adapter in the world. To achieve maximum speed, the adapter must be connected to USB 3.0. The adapter is powered by folding antenna that can be customized and integrated to optimize the performance of existing WiFi.
Devices combined package AC1200 router with a USB 3.0 adapter or UAC1200 known as AC1200 DUAL PACK Edimax has a price range $ 149.99 per unit.