Jelly Bean makes a steady climb away from Ice Cream Sandwich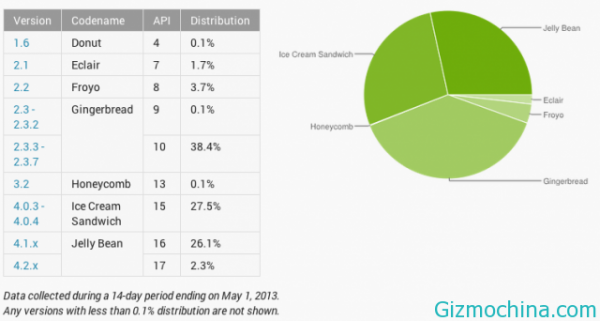 Android phone users who use Jelly Bean version is increase. Even in the latest data, the number of users of Android Jelly Bean are now able to exceed the Ice Cream Sandwich.

According to the latest Data, Google revealed that there are now 28.4 percent of Android users is running Jelly Bean OS. That number has increased compared to the previous month which has 25 percent.
On the other hand, users of Android Ice Cream Sandwich has decreased. If the last month there were 29.3 percent of users, now that number dropped to 27.5 percent.
In the first place, of course Android Gingerbread still earn a percentage of 38.5 percent. This amount also decreased compared to the previous month's 39.8 percent gain percentage.
Google is preparing the latest version of Android, and ready to be introduced this year. There are rumors that Google will continue to use the name Jelly Bean, but there is also revealed that Google will introduce Android 5.0 Key Lime Pie.