Xiaomi 2S smartphone drop price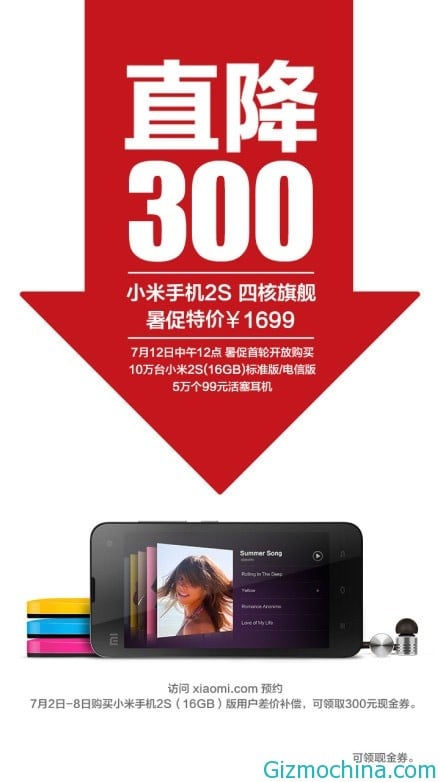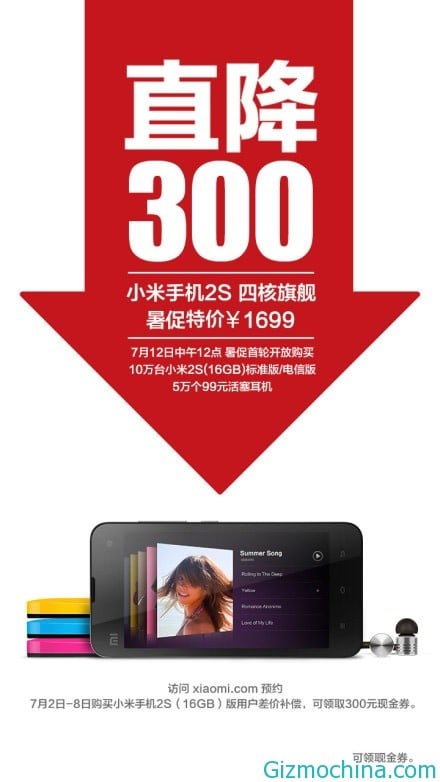 Xiaomi has been dropped the Xiaomi 2S price, from 1,999 yuan ($ 326 USD) to 1,699 yuan ($ 277 USD) price tag.
Today, Xiaomi Phone has been announced that on July 12th, they will offers their Xiaomi 2S smartphone 16GB Standard / Telecom version of the price will be lowered to 1,699 yuan or around $ 277 USD after cut the price of 1,999 yuan or around $ 326 USD price tag.
While for your reminder, the Xiaomi 2S 16G Standard / Telecom version configuration as follows: 1.7GHz Qualcomm Snapdragon 600 quad-core processor, 2GB RAM, 800-megapixel rear camera, 2.0 megapixel front camera, 4.3-inch screen with a resolution of 1280 x 720, and powered by 2000 mAh battery capaity.
It is reported that Xioami phone 3 will be released on August 16th, using the 1080p full HD screen, quad-core NVIDIA Tegra 4 processor, priced at 1,999 yuan ($ 326 USD). The price of Xiaomi 2S phone seems adjust to the next Xiaomi 3 price tag, for sure.