Toshiba Regza AT703, 10.1 inch tablet device with 6000 mAh battery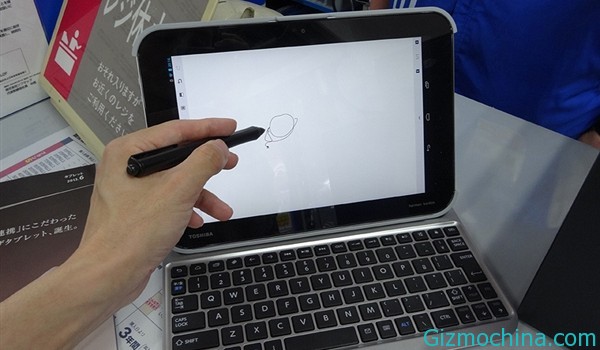 Toshiba is already to launch Regza AT703 tablet device, this is the one of tablet device built by Toshiba that packas with 10.1 inch retina display.

With code number of AT10LE, Toshiba Regza Tablet AT703 is equipped with the 10.1 inch  Retina Display that supports a resolution of 2560 × 1600 pixels (WQXGA) and a powerful sound system Kardon Stereo Speakers. The tablet is running Android 4.2 Jelly Bean seems to have concentrated on the Quad-Core processor support for ARM Cortex A15 1.8GHz NVIDIA Tegra 4 with an integrated ULP GeForce GPU 72-core and 2GB of RAM.
Not to mention the perfect solution to storage, the tablet size 260.7 × 178.9 x 10.5mm and 671g of weights,  pack with 32GB of internal memory which can be expanded using MicroSD cards up to 32GB capacity through the existing slot.
This tablet is sports with 8 megapixel main camera and 1.3 megapixel front-facing camera, this  also equipped with several other supporting features such as Bluetooth 4.0, WiFi 802.11 a/b/g/n, USB 2.0, HDMI, 3.5mm audio jack, GPS, Electrostatic Touch stylus, and a 6000mAh battery that can provide up to 9.5 hours of operation.
Toshiba Regza Tablet AT703 is sold for around ¥ 89,800 or about $ 900 USD price per unit unit.