MediaTek launch the MT6592 Octa-core processor today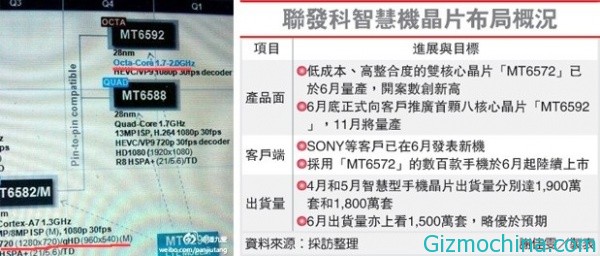 Early this month, we've covered the news about the new MediaTek MT6592 chipset, this is their first octa-core chipset. And now MediaTek has been officially launch MediaTek 6592 processor that compete with another processor such as Samsung Exynos 5140 processor on the market today.

While some user is worried about the heat problem on the chipset, MediaTek has claimed that the new MT6592 chips is not has heat problems.
Antutu Benchmark test has been test the MT6592 and reaching a total of 30,000 points, this is a good results. The processor is running at 1.7GHz to 2GHz clock-speed, between support 30fps 1080p video recording.
This new MediaTek MT6592 chipset is becoming the rival for Qualcomm Snapdragon chipset and Samsung Exynoss chipset lineup.
In emerging markets and low-end market, MediaTek has competitive prices with the rapid development of the mobile phone manufacturers can also save production costs and earn more profits. In the high-end market, although now Qualcomm is the main force, but after the release of MT6592 eight-core processor, MediaTek also have the opportunity to have a share in the high-end market.
MediaTek has now to some potential customers MT6592 processor, in order to facilitate customers sample production equipment, according to plan, will be held November MediaTek MT6592 processor volume production.