Detail picture of Lenovo K900 smartphone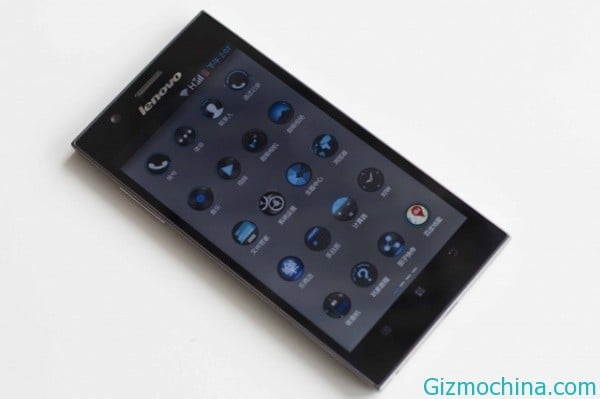 After we've covered the news about Lenovo flagship smartphone, is now we have a couples picture of Lenovo K900 smartphone. This is the good quality products and Lenovo taking their strategy to built this phone since K900 powered by Intel processor.
Lenovo K900 to the positioning, business people and technology products lovers, Founder of steel, straight lines, looks sharp and tough, a deep sense of domestic business machine style. Business people really like it, Xiaobian do not know, but as to engage local enthusiasts, the first impression of the machine is monotonous, regardless Oppo Finder or K900, vegetable plate of what is really no love, had Tucao one, domestic machine design ideas or in the narrow and conservative circles round and round inside.
Positive, K900 acceptable, no narrow frame, upper and lower frame is also very general, three virtual buttons below the screen, hidden not thorough enough, or by the naked eye can easily distinguish the black panel. 5.5 inches screen is narrow relative to Note 2, which means using a K900 cute octopus repulsive screen. Of course, everything depends on two sides, K900 narrow, brought both against humanity screen ratio, but also for single hand held and convenient one-hand operation. You will not let reach the volume and power buttons, slender fingers, one hand operation K900 is not a problem. In addition, the width of the compromise, let K900 able to put most of his trouser pocket, backpack, portability is not a small plus.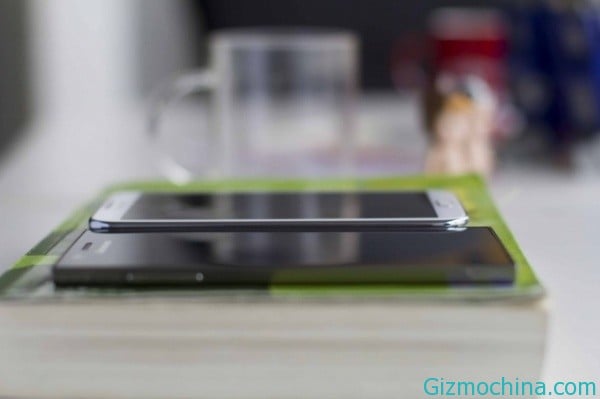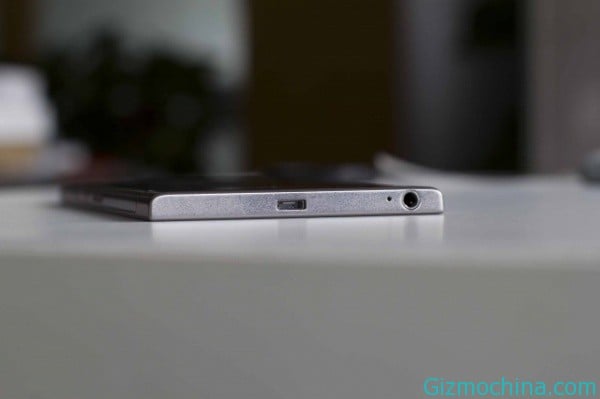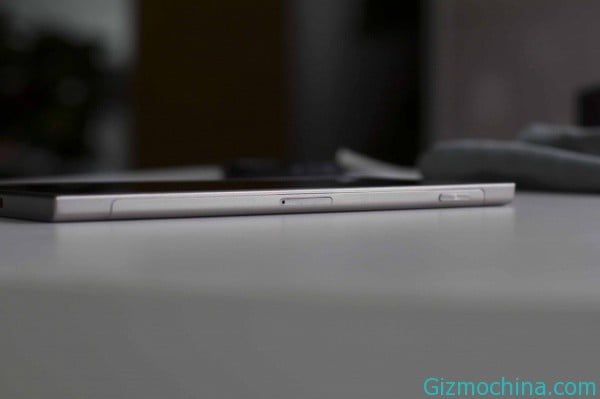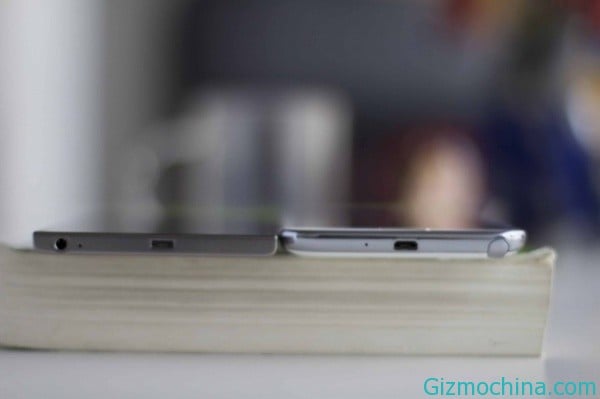 And back edge of the fuselage frame is integrally molded steel. It should be noted, Lenovo said steel mouth, although inspired by the senior watch and metal ornaments, but not the surface after plating alloy, K900 grade steel, in essence, plastics. Yes, indeed plastic, small not only to emphasize that it is plastic, but also for the plastic applause.
It really, really like, no, it is simply metal, no matter how you look, from the appearance of both will not find a trace of plastic, metal material texture with indistinguishable. Samsung machine that Diaoqi silver frame, you can not do this. For still entangled students, Xiao Bian would like to remind one, under normal circumstances, you absolutely can not through human sense organs found it to be plastic. Moreover, in addition to have metallic look and feel smooth and delicate, it also retains the plastic dull matte and matte texture, among which a large stainless steel with brushed metal, in shiny, bright and dark, texture complement each other, a simple evaluation of this Body material using very successful, is an absolute innovation.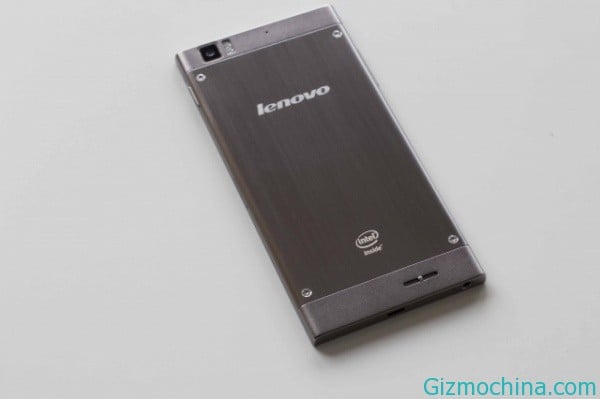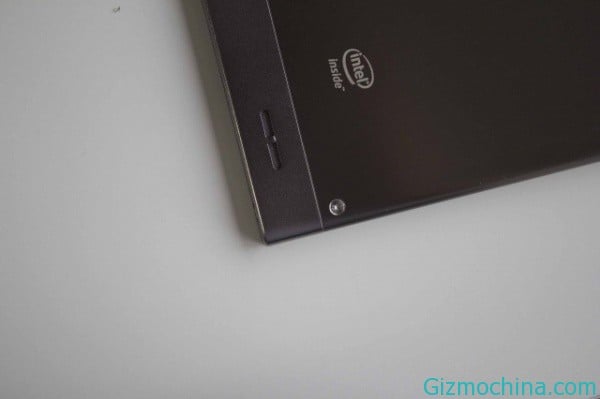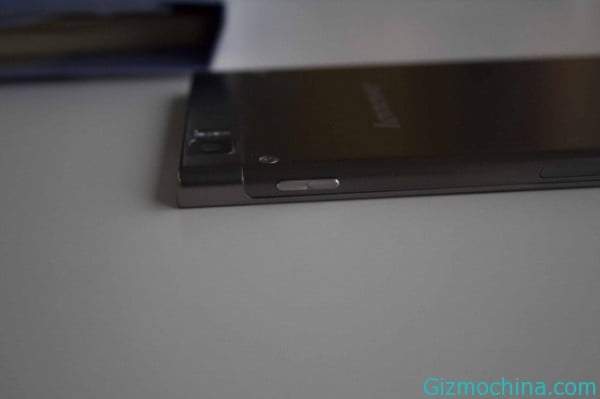 Backplane middle, "mosaic" with a layer of brushed stainless steel sheet metal, so the design, highlighting the thin edge portion, so that the backplane more layered. Since it is a real metal, is conducive to heat, the practicality of the design has also been reflected. Four screws embellishment, mixed, Lenovo said this design, making the phone with clockwork mechanical beauty, Xiaobian more inclined to think that, if not this four screws, the entire back will become a lifeless piece of the plate. In addition, the screw itself has carved its texture is very fine, glowing real steel sheen.
Overall, K900 look conservative, but very refined industrial design, changing the small series of domestic machine usual "rough" impression. 5.5 inches screen with ultimate thin 6.9mm body, coupled with a strong sense of boxy lines, great visual impact. Positive and negative and smooth as a mirror, fitted tightly integrated body with metal frame around the circle feeling. Borders and screens, brushed metal plate between the upper and lower plastic, the gap is very small, backplane screws and the power button on the right border, after polishing process, there is the delicate fingers fit textures, metallic sheen and more prominent. These details proved K900 workmanship, very significant level, Lenovo is increasingly hard to use products, raise awareness of domestic brand impression.
Internal
Superficial easy to do, but can not see the inherent, truly reflects the attitude of a product. K900 heritage how to find a few small series under disassemble diagram analysis.
1) double steel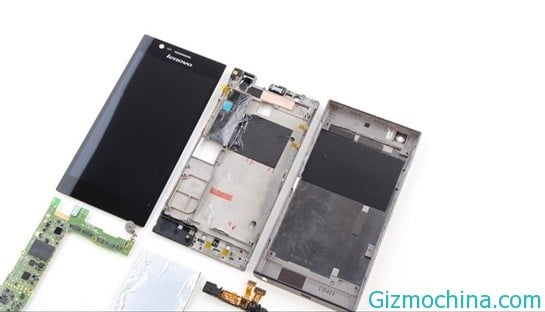 We can see from Figure disassemble, K900 in addition to the back of the plate, inside there is a layer plate, motherboard and components on the touch screen mounted on top of it, the use of double steel reinforcement, K900 body slim, but very solid and secure. iPhone 5 a butt was sitting bent comedy plot, can not so easily occur in K900 thinner body.
2) a large area of ​​graphite thermal paste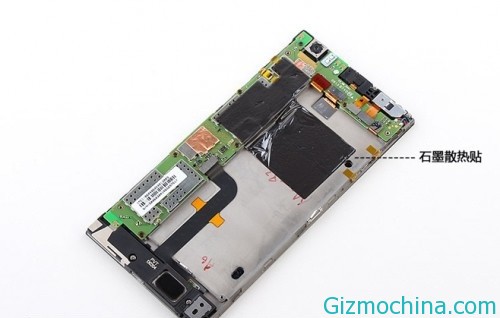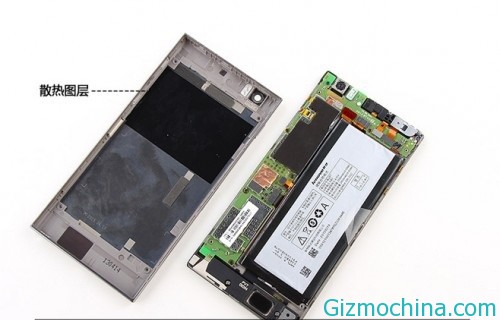 K900 with a L-shaped motherboard (this is nothing surprising, 6.9mm slim K900, the beginning of design seeks ultimate thin), the lower part of the camera, there is a large graphite thermal paste, not only covering the L-shaped motherboard intel Atom processor, and It is near a variety of chips, but also extends to the right of the battery compartment. Intel X86 chip produced Atom Z2580, powerful performance already heard, fever should also be Leverage. K900 This large area of ​​cooling paste, specifically wait on these big heat, but also double (backplane and the motherboard has graphite paste), in good faith, with the outer and inner layers of metal plates, the cooling effect is worth the wait.
3) metal shield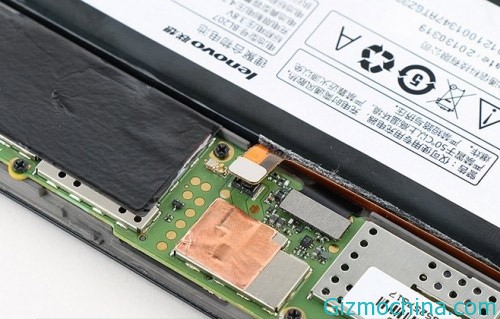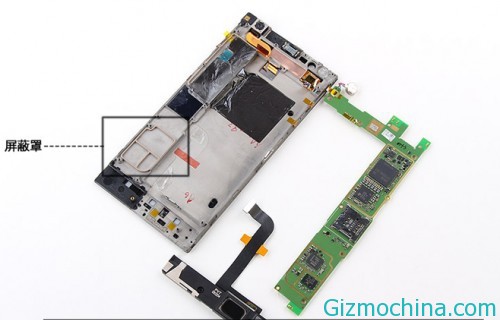 Galaxy S4 and other high-end machine, combo used the copper covering all the major chips, used both to heat, but also the effects of electromagnetic interference shielding. The proprietary metal shield, the beginning of communication by focusing on the smartphone Motorola's first use, then domestic conscience Meizu MX2 also appeared, and now, K900 also used. Metal shield shield external electromagnetic interference, so that the components in the "purer" environment operate independently, which mobile communications, and other functions optimization effect on how much we do not know, but the cost increases, design intentions, slightly demanding perfectionist, very convincing. K900 not only on each chip assembly shield, there are very few
See specifically for cable carved grooves, with the function of the metal shield.
Screen
LG K900 produced using a 5.5-inch IPS screen with a resolution of 1920 × 1080, pixel density than 400ppi. LG produced the IPS screen, iPhone has also been used, K900 display effect on par with the industry benchmark do? Grayscale test, K900, Oppo Finder 5, iPhone 5 comparison below. You can clearly see, K900 performance is not satisfactory, grayscale identify low, mean contrast, image detail is weak.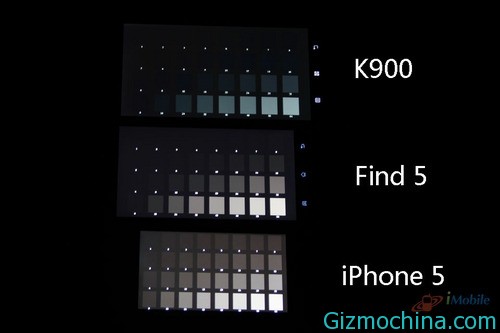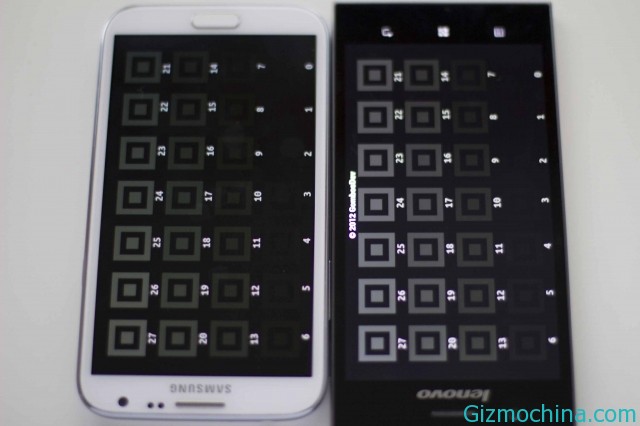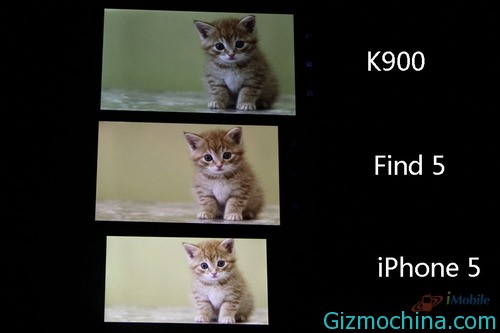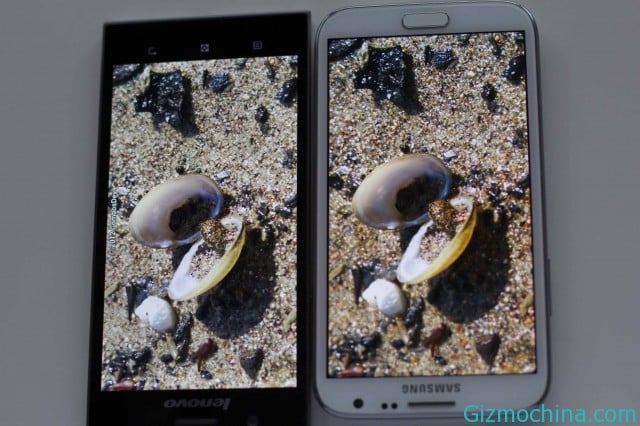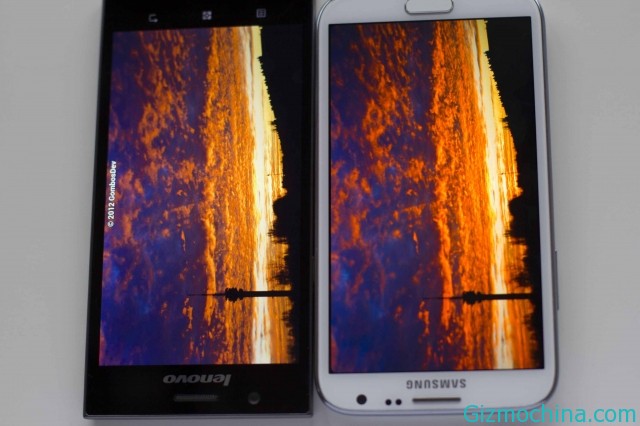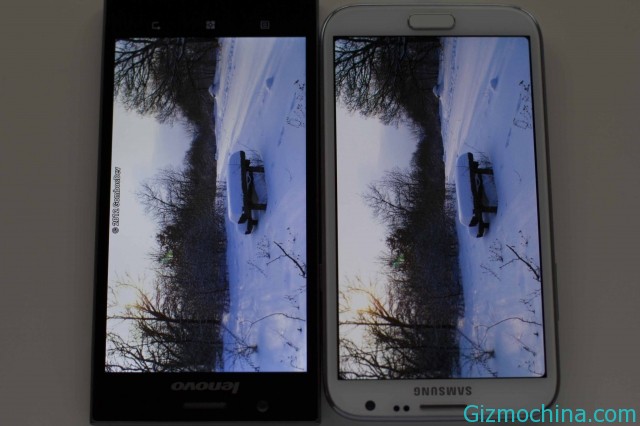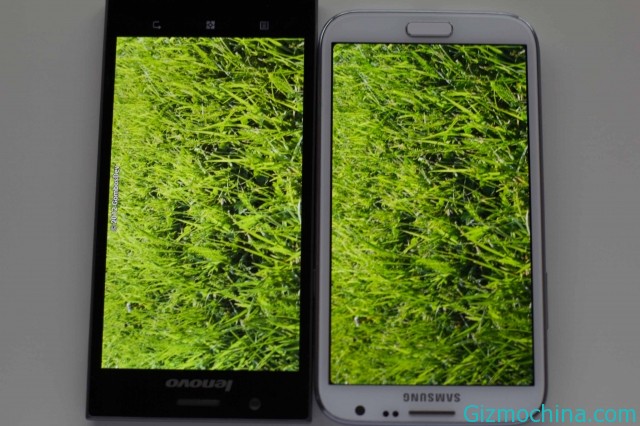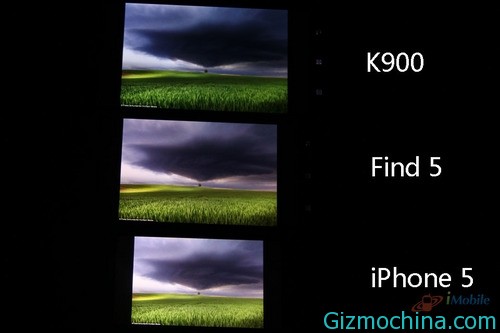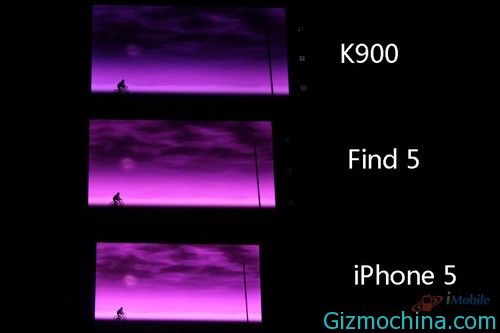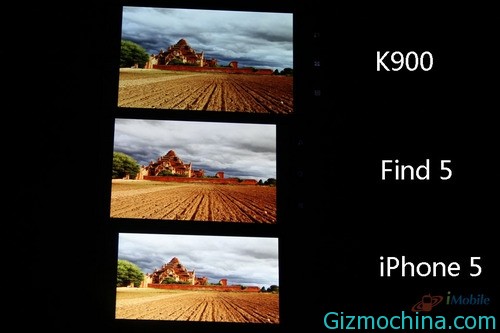 Oppo Finder 5 IPS screen using the OGS full lamination technology, which performed well in light transmission. iPhone 5's in-cell screen technology, the touch sensor embedded into the LCD pixels, the touch sensitivity is very prominent, but also enhances the permeability of the screen to reduce reflections. Whether OGS or in-cell, the structure can be simplified assembly, the screen do thinner. Lenovo K900, then this information is not much, but it is understood, the IPS screen components used in the traditional technique, contrast, brightness, screen permeability, true color detail with Oppo Finder 5 can not be compared to the iPhone, but black display is more pure, and more than 400ppi display brings sophistication to make up the individual tests K900 was opened gap.
Overall, K900 is 5.5 inches 1920 × 1080 IPS screen, more mediocre, but also more balanced, not particularly obvious shortcomings. Although you can not use the same IPS screen with top product comparison, but that is IPS screen, color reproduction, brightness, the screen viewing angle, as compared to non-IPS screen still has a lot of advantages. More than 400 of the PPI, very seductive, users focus on the screen sophistication, K900 will not disappoint.
Touch
K900 with the Lumia 920, as is equipped with ultra-sensitive screen with a fingernail, gloved can touch. Proven basically true, but here to focus on that defects on the K900 in touch:
Defective one, touch accuracy is not enough. In touch with some of the games and identifying demanding app when, K900 sliding around on sometimes identified as a down operation, it is affecting experience
Defects two, touch not smooth. Both the main screen flip, brush website, or other intuitive touch operation, K900's response was significantly better than the iPhone and high-end Android machine there is a delay, although no more exaggerated and Caton floating jump phenomenon, but not smooth touch K900 This is not to deny the fact.
From disassemble the figure, Xiao Bian found K900 has a separate chip optimized for touch, the actual effect why it is still hard to satisfactory? This may be related with the x86 architecture CPU. Intel's Atom processor, the initiative for the arm architecture compatible mobile operating system, which is likely to be less accurate and smooth touch underlying causes. Android and iOS maturity, is designed to adapt to the beginning of the initiative ARM architecture CPU, the Lenovo K900 is, in turn, is not yet mature Atom processor, take the initiative to adapt for the ARM chip design of the operating system, hardware and software combination has Mishap.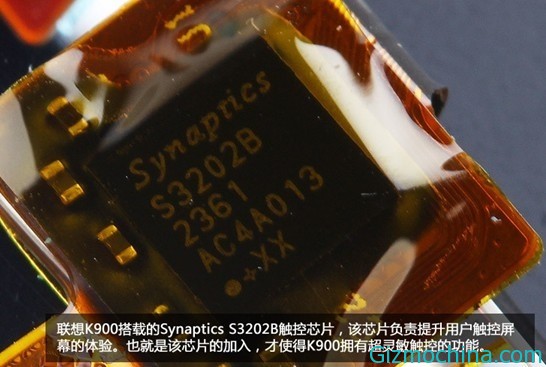 Industry-recognized best touch experience of the iPhone, Apple is creating soft and hard with both hands. Apple's own ARM processor design, own closed iOS system, a complete set of hardware and software optimization program, by contrast, Intel and Lenovo combine to create K900, on the hardware and software combination, or primary school level.
Camera
K900 camera selling point, there are two: one is 13 million pixel sensor stack, and the second is a large aperture of F1.8. Shoot high resolution pictures, details of the reduction well, stacked sensor chip cmos photosensitive means to be stronger, coupled with the large F1.8 aperture, K900 low light level imaging should be good. Lenovo cater to the industry trend, K900 camera in low-light imaging and down a lot of effort, results so far?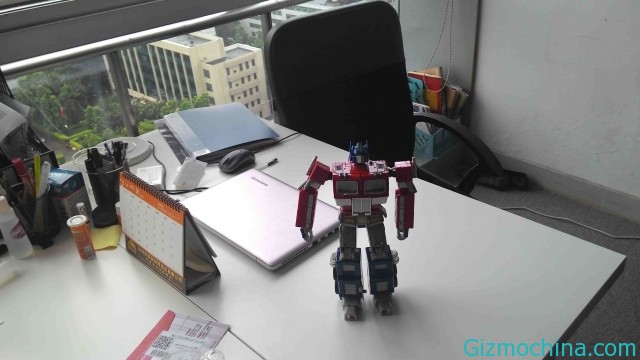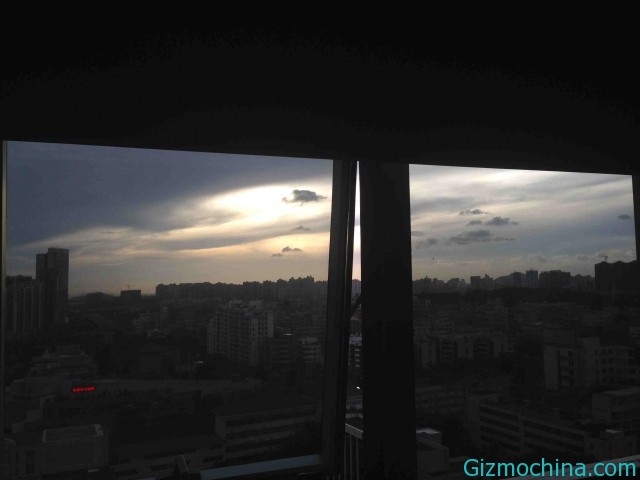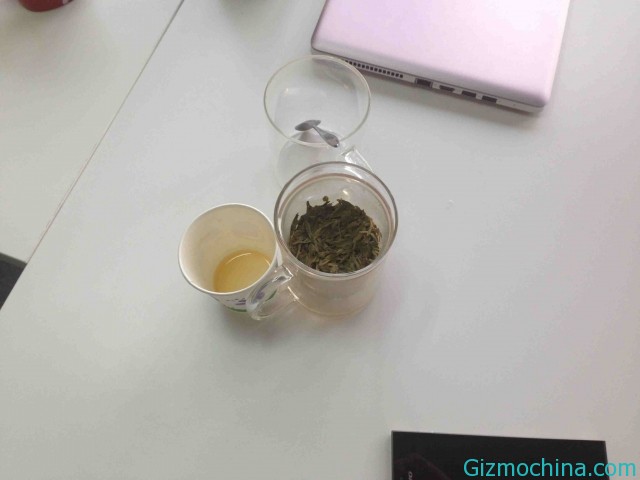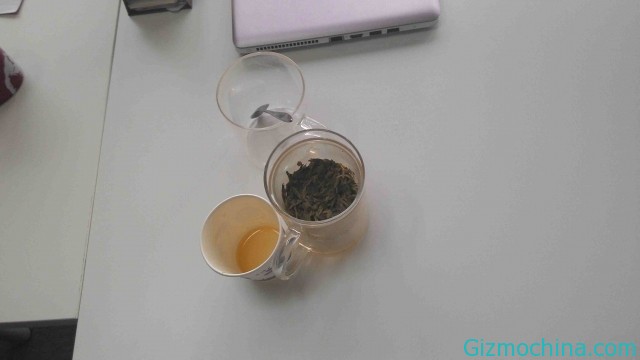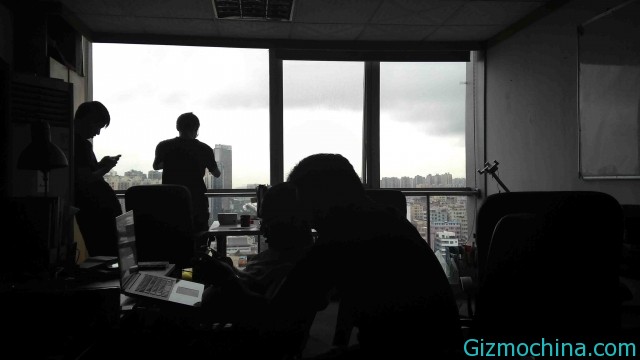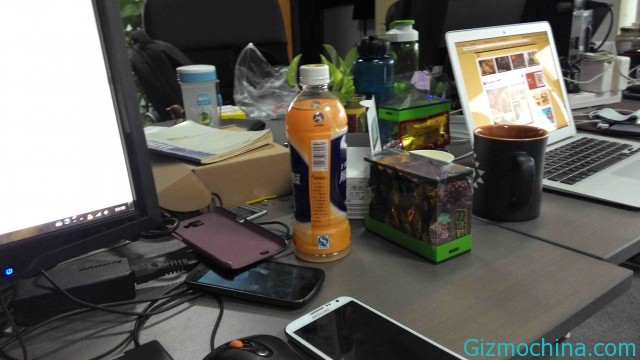 K900 low light level imaging, better than the iPhone, but adequate light, the light level and color reproduction, image detail gap significantly.
cmos photosensitive stronger, more light large aperture intake does not mean low-light conditions, the effect can shoot photos satisfactory. High sensitivity noise control, ISO, shutter precise mutual adaptation and deployment of these important details, domestic machine concerned is not enough. Filter film, a complex set of lenses, optical image stabilization, independent image processing chips and other high-tech stuff, domestic manufacturers is a blank.
Benchmark test
Intel's deep technical accumulation, is accompanied by a strong R & D capabilities, coupled with industry-leading two-year chip manufacturing process, the company has achieved on the x86 chip glory and success, people simply could not look. Such a giant, launched a mobile x86 architecture chips, how to prevent it high expectations.
K900 uses Atom's Clover Trail + family of processors, first explain, Atom's Medfield for smartphones designed 32nm Atom Soc (System on Chip, SoC), while Clover Trail is for Windows 8 tablet 32nm platform. Clover Trail + (CT +) is still a 32nm Atom Soc, but the phone and tablet can be used. Architecturally speaking, Clover Trail + still use Medfield platform, but has two CPU cores and significantly improves the performance GPU introduced Clover Trail enhanced version used in the memory controller. Atom Z2580 is the most high-end Clover Trail + processor, dual-core frequency up to 2.0GHz, its integrated graphics chip PowerVR SGX544MP2, running at 533MHz frequencies, theoretical graphics capabilities should be close to Apple A5X.
After reading so many dazzling term data and hardware parameters, the following is the most intuitive, Atom Z2580 +2 GB RAM Lenovo K900 run points result.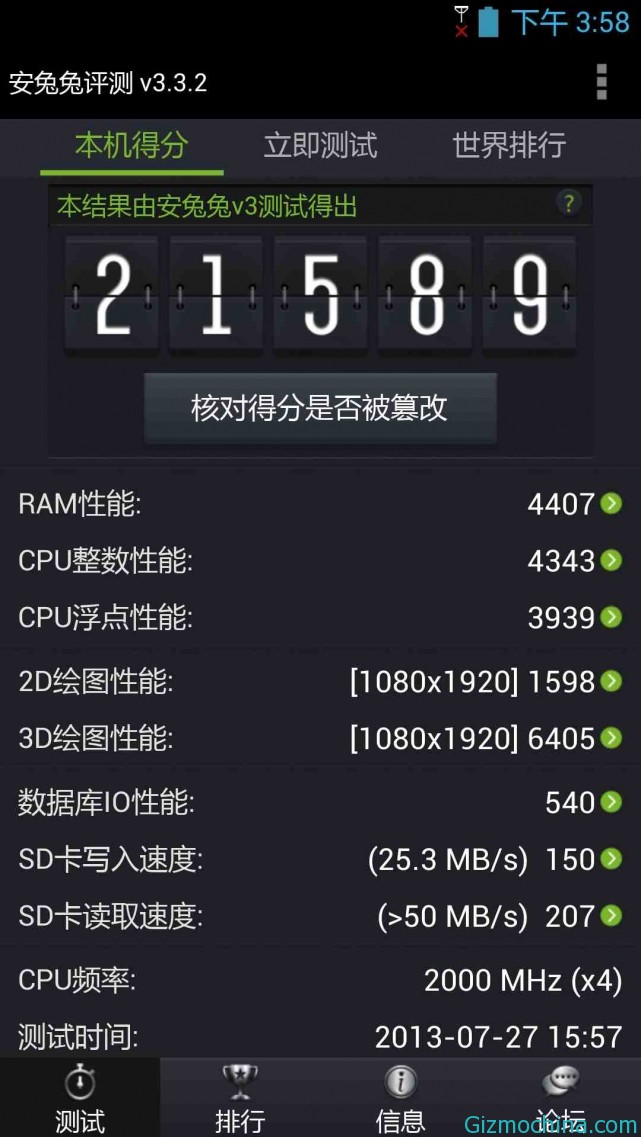 It should be noted that the previous Atom Z2580 ran up to 30,000 points score, not true, the specific reasons can refer to this article – "have said something about those things run points." This result may be disappointing, Atom Z2580's actual performance and not so exaggerated. Small series of hands-on test results and data circulated on the Internet, there are some gaps, do not know the models listed other reasons for fever and endurance, limiting the CPU frequency, or a new version of Antutu overkill on the Atom Z2580 test not objective enough and authority.
Overall, K900's performance is quite good, play games, and run large applications without any pressure, in a variety of tests under extreme and there is no apparent Caton, x86 performance really doubt.
Heat and endurance test
Demonstrated in front of the strengths of x86 chips – performance, now is more meaningful heat test, as shown: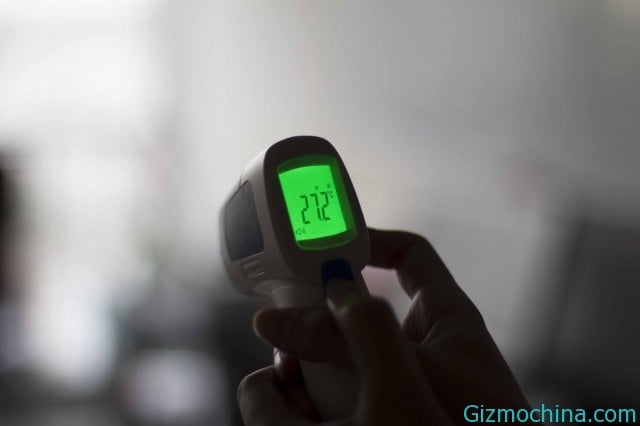 Temperature 27 degrees in the case, playing an hour "Need for Speed: Most Wanted" (NFS Most Wanted), back-plate hottest location, temperature up to 44 degrees, where the hottest metal back cover, to 41.6 degrees. This result, compared with other leading manufacturers flagship, is good.
It is worth noting that Lenovo K900 with the Galaxy S4, as in running a large game, the temperature rises rapidly, but remained at a stable long before the interval. After you exit the game, the temperature drops very quickly, less than 3 minutes fell by 5-10 degrees, 5 minutes or so to near normal. This shows, CPU Atom Z2580 response to load changes very sensitive, dynamic power adjustment capability well, in addition, it also confirms the K900 thermal rate quite fast, after all, a total of motherboard + backplane has two graphite paste, as well as metal back cover auxiliary heat. Under so much effort, we can see Lenovo x86 chip cooling did not sloppy.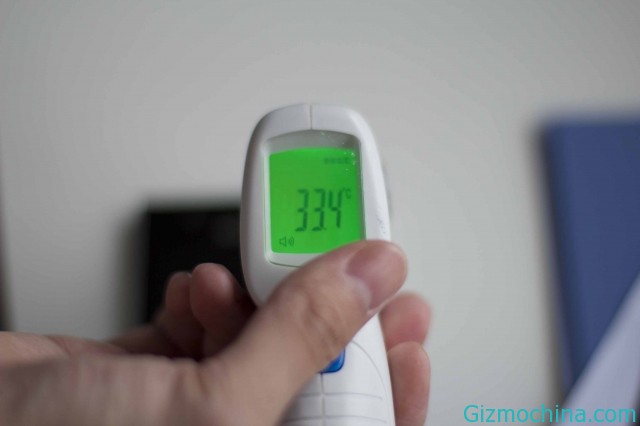 Life, Xiao Bian did not do a detailed and objective tests in the open WiFi screen brightness set to maximum, playing two hours later Need for Speed, power lost almost 40%. Lenovo K900 6.9mm body which integrates a 2500mAh battery, has done the ultimate, but 5.5 inches of IPS LCD screen + high-end Atom processor, it is a bit cruel.
Audio frequency
K900 with the Galaxy S4, the use of the wolfson audio codec chip, sound outstanding. Its unique musical eggs 30 degrees, measured extremely shocking, and reinforcing effects. In addition, K900 rear speaker with a mesh metal design, to cut off the middle and slightly raised, to ensure the phone flat on the table when the sound would not be greatly inhibited, have to say this is a very humane.
Lenovo's built-in music player, giving the feeling is full of small series of goodwill. The main interface is divided into local music and online music, the interface is soft, the classification is very simple local music that play music interface, the progress bar there is a metallic feel, pleasing. Supports automatic adaptation song pictures and lyrics, because the database from Baidu, so high accuracy
Application Compatibility
About K900 Intel x86 architecture processors using this phone, it is generally a little worried about, is the application compatibility issues. Xiao Bian did not make very detailed tests, but some preliminary conclusions.
1) daily use for some applications, there is no application compatibility issues.
2) music store application, measured, there was no application compatibility issues. Music store relative to the Google Play, the same results were similar keyword exported application rate is not high, it may be Lenovo has its own classification criteria. Xiao Bian speculate that the screening criteria should talk to some of the key elements affecting compatibility information, so music store application, basically you can run perfectly.
3) conversion applications. Xiaobian specially tested several initial migration to Android from iOS platform on the application, the results show a large compatibility issues: Game feedback slow touch function keys, or simply no feedback, some applications run for a period of time to enter state of suspended animation, must be forced to shut down.
Ported to Android from iOS platform on the application, basically high heat, strong ability to attract application, not how to make money for the Android platform, developers enthusiasm does not seem high. Code modification, testing, optimization, these migration platform application quality assurance work, obviously do not seriously, on the Android platform, these applications look shoddy and transferred to K900 runs on x86 chips, the effect is even worse.
Summary
Lenovo K900, exquisite workmanship, solid materials, hard outstanding strength, 5.5-inch IPS screen with a high-end machine 6.9mm slim, priced at a mere 3000 to succeed, very cost-effective.
As a mobile phone equipped with Intel chips, K900 remarkable performance, endurance and fever, has also been close to the general assembly of the ARM chip smart phone, but the touch, the need to continue in-depth optimization. As for the screen, cameras, field, K900 with the top Android phones, there are still some gaps, after all, is not deep technical foundation, killer hardware technology base and domestic manufacturers missed.
In addition, this machine is equipped with Intel Atom Z2580 chip, and did not show x86 computing power in the absolute opposite arm chip advantage, but in every watt power consumption, heat control, x86 effectiveness has been struggling to catch up. Can the performance and power consumption of Intel-depth balance, continue to improve the compatibility issues, which could affect the x85 chip massive popularity on mobile devices a key bottleneck.
In K900 body, I see the association are working within the limits of the ability of the product to achieve the ultimate. A short step, a thousand miles, domestic manufacturers such as Lenovo representative of the positive progress of the burst of energy, one day, the domestic mobile phone, you can also let us be proud of prefix words.
v