MediaTek mobile phone and tablet product line Revealed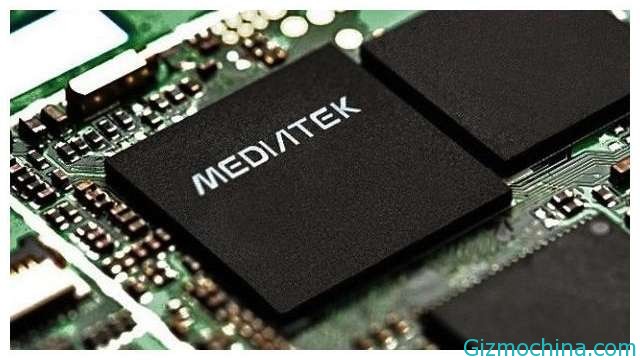 Quoted from Maybank Kim Eng Securities's data, they has been found a more complete overview of MediaTek product roadmap, in addition to the recent concern netizens hot Octa-core MT6592 chipset.

MediaTek will have a variety of smartphone / tablet computer based-on the MT6582 / 6582M, MT6588 and the adoption big.LITTLE architecture MT8135 and so on.



MT6589 / 6589M and MT6589T have large volume production, equipped with a terminal products of these chips have been quick to seize the domestic one thousand yuan four core markets, and some manufacturers also introduced based MT6589/6589T flagship product. MT6572 is now in volume production, China Cool Union, Jin, TCL and Hisense and other power companies are using the program's product launch, will compete for more market share in the entry-level.
The next Q3, Q4, uses the same Cortex-A7 core MT6582, MT6588 and MT6592 upcoming production, which MT6582 and specifications can be seen as a lower MT6582M MT6589 optimized version of the main frequency upgrade to 1.3GHz, the same as with MT6572 Built-MALI-400 graphics processor that can support W / TD dual mode, 720P resolution and video decoding, will be officially launched in the third quarter.
Specification was clocked higher MT6588 1.7GHz, may be equipped with PowerVR SGX6 Department GPU, support 1080P display and 1080P decoding, 13 million-pixel camera, and uses a 28nm HKMG (high-K metal gate technology), but also take into account the performance and low power consumption, high-end chips MediaTek representative of the product; course, the highest level of the fourth quarter or the MT6592, which is the first true eight-core chip, clocked at up to 2GHz, also supports 1080P and 1080P display codecs and 13 million pixel camera, but the GPU has been replaced with a quad-core MALI instead SGX 6 series.
MediaTek's first TD-LTE 4G chip-MT6590 will be at the end of trial production, and the final program of the fastest 4G commercially available may want to go next year.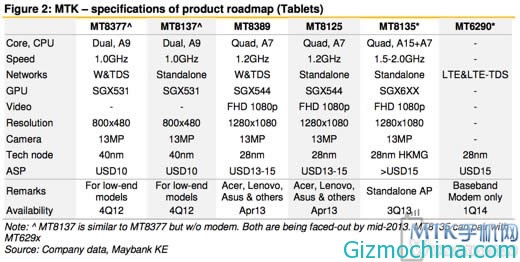 MediaTek MTK official believes that this year is the first year of the tablet, before there is a lot of programs for the introduction of flat products, such as MT8377/8137, etc., compared to full-blown smart phone chips, flat panel processor's performance seemed too "low key . " But with the MT8389 and MT8125 and other products on-line, ASUS, ACER and other giants have introduced the use of MT8125 flat products, let alone close cooperation with MediaTek Lenovo, the Lenovo introduced this year A1000/A3000/S6000 are equipped with a flat MTK programs, such as Q3 tablet built specifically for MT8135 quad-core market, estimated to be more domestic products using the platform launch.
MT8135 used is based on Cortex-A15 + Cortex-A7's big.LITTLE architecture, the use of micro-architecture techniques were different CPU core group (cluster), thereby taking into account the low power consumption and high performance, processing performance when necessary with High-performance Cortex-A15 performs processing when idle and load is low then use electricity more efficient Cortex-A7, is MTK tablet this year, heavy build "weapon."
It can be predicted that next year will be an MediaTek out low-end market, towards the high-end market of the year, several new products are directed at the flagship terminal, covering the full range of real and official sources have pointed out that there will be more follow-up how high specification product launch, people look forward to.