Lenovo K910 benchmark score revealed with Snapdragon 800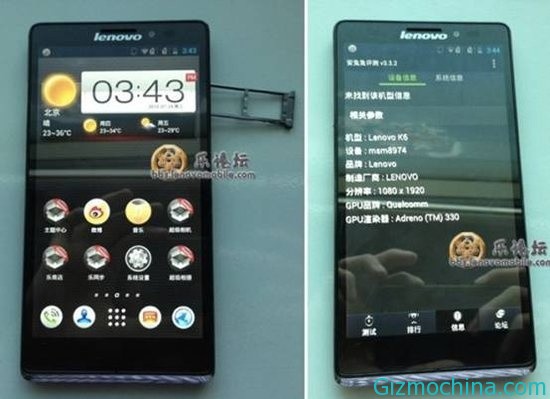 After we've got the news about the new Lenovo K900 smartphone, the new flaghsip smartphone from Chinese manufacturer, Lenovo K910 is now revealed the bechmark test with higher point.

The Lenovo K910 is the successor from the previous K900 smartphone, and now Lenovo K910 was spotted on the AnTuTu Benchmark database with more than 30,000 points. This phone is powered by Snapdragon 800 with 2,2GHz clockspeed and running Android 4.2.2 Jelly Bean operating system.



While K900 is powered bu Intel Cover Trail+ processor and the new Lenovo K910 is powered by Quadcore 800 quad-core processor, this is significant different while Intel is trying to enter mobil phone market and Snapdragon has been a years in mobile segment.
Moreover, in the past leaked Lenovo real machine also shows the machine using Qualcomm Snapdragon 800 (MSM8974) quad-core processor, and equipped with Adreno 330 GPU, while the touch screen resolution is reached FHD (1920 × 1080 pixels) Full HD level. However, when the machine is displayed ROM space seems to be only 4GB, but supports micro-SD memory card expansion. It is expected that the aircraft should be in the official product with at least 16GB of ROM storage capacity.
5.0 inches touch screen
Although this AnTuTu Benchmark did not give any more information, but after exposure of the real machine, Lenovo K910 front styling seems Sony phones feeling, and back of the phone's main camera is somewhat similar with the K860 , and uses a metal frame material, cover seem to be demolished. In addition, Lenovo K910 should be equipped with a 5.0 inches touch screen around, and make sure to provide the right support for dual SIM functionality.
In addition, Lenovo K910 also uses Micro-SIM card, and uses a SIM card slot drawer. But more unfortunately, this association is unclear when this new flagship smartphone officially released.