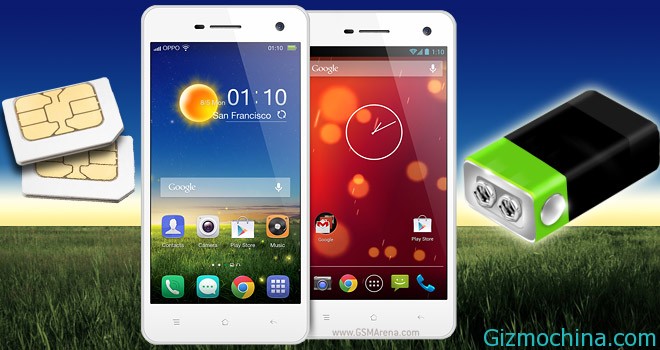 If you're the one of Android smartphone user, you must be concern to the Android device battery capacity, especially when you're a mobile user hat always trip from city to city. The one of Chinese smartphone, OPPO R819 has been doing a battery tested by GSMArena.
The OPPO R819 is impressively thin at 7.3mm, but that didn't come at the cost of the battery – 2,000mAh sounds good, when you consider other minis like the Samsung Galaxy S4 mini duos and the HTC Desire 600 dual sim both have about 1,900mAh batteries.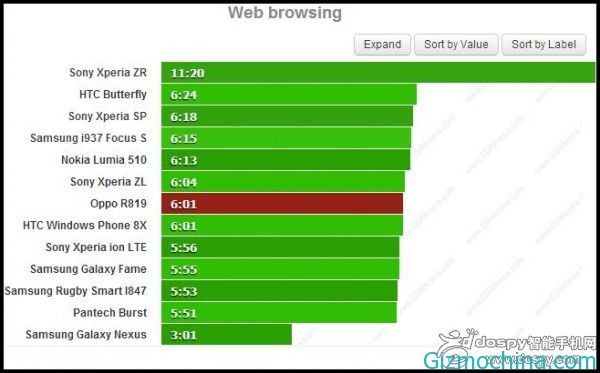 The chipset with a quad-core Cortex-A7 and PowerVR SGX544 should be very power efficient too, but it's driving a 720p screen rather than qHD like on some other minis, that's about 78% more pixels to draw.
Not that it matters for the call test as the screen is off. The Oppo R819 sipped battery juice and lasted an impressive 19 hours. That beats even the Galaxy S4 mini duos, which is otherwise a battery champ, let alone the minis that didn't perform as good.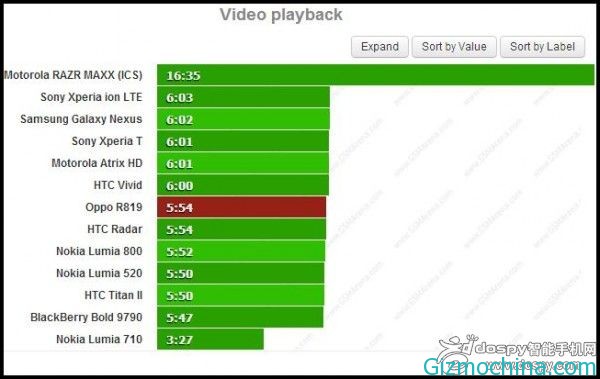 Once the screen comes on and the Cortex-A7 cores are put under pressure, things change. The R819 barely cleared the 6 hour mark in the web browser test, which is about half an hour less than the Desire 600 dual sim. The big Galaxy Grand Duos (5″ WVGA display) went a little over 7 hours. The bright, high resolution display of the Oppo took its toll on the battery here.
The video playback time was virtually the same as the web browser test, just under 6 hours. The Desire 600 managed about an hour longer, the Grand Duos lasted another hour more, while the Galaxy S4 mini duos came in close to the top with over 13 hours. The Oppo R819 screen is great for videos and the video player has extensive video codec support, but it's not very power efficient.
Despite having two SIM cards active, the Oppo R819 showed a very low power consumption in standby and when you add in the great call performance, results in a very respectable endurance rating of 56 hours. That tops the 53 hours of the Desire 600 and matches the 56 hours of the Galaxy Grand, but not the 62 hours of the Galaxy S4 mini duos.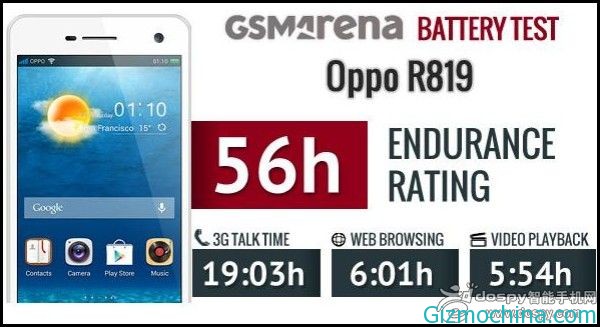 If you wanted a dual-SIM phone to make lots of calls, the Oppo R819 seems to be a great option – it won't lose much charge overnight and you can talk for as long as you're awake during the day. Other tasks, however, drain the battery much quicker – especially if you do web browsing over 3G (rather than Wi-If like we use in the test).
[via GSMArena]