SUGAR Phone, a swarovski jewelery phones has been released in Beijing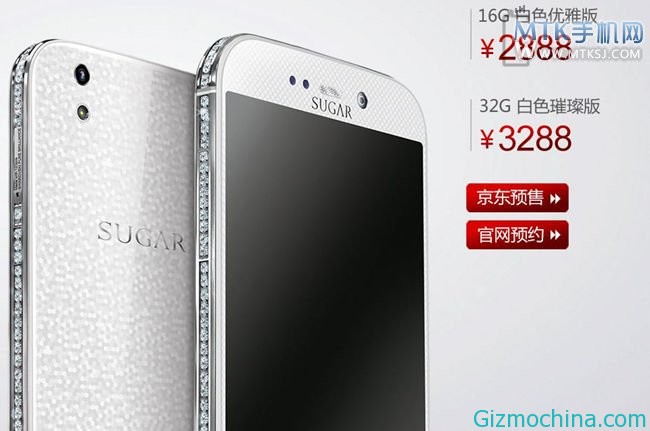 On August 23rd, SUGAR Phone has been released, their new smartphone that covered with the swarovski jewelry on the phone's body. This is the world's first Swarovski encrusted smartphone ever.
The greatest feature of this product is the SUGAR phone has embedded of the 129 gemstones. This 129 gemstones has more than 5.16 kt, totally dependent on artificial grinding and hand-inlaid, this craftsman polished production methods, as compared with today's mechanized assembly line, more carefully.
SUGAR phone is powered with a 1.5GHz quad-core processor, 2GB of RAM and 16GB/32GB of internal storage. On the screen, SUGAR uses a 5 inches 1080P resolution screen, showing excellent results.
Camera, this phone is set after the 13 megapixel Sony stacked camera, while the front was pack woth 8 megapixel camera.
In the operating system, SUGAR using Android 4.2.2 Jelly Bean operating system, but the system vendor conducted its own UI design and development, more in line with its jeweled style. SUGAR phone has offers in two colors to choose from, which are pink and white. For Pink SUGAR, fuselage side inlaid artificial gemstones are also in pink, and match with the whole body harmony.
Jingdong Mall has offers this SUGAR phone as the starting platform for cooperation, also the first time announced the final selling price. Where the white elegant version (16GB) is offers to 2,888 yuan around $471 USD, bright white version (32GB) offers to 3,288 yuan or around $537 USD, while the pink version of SUGAR price is still unknown.
Both versions are used 1.5GHz MT6589T quad-core processor, 5 inches 1080P Sharp ASV screen, 2350 mA battery, customized Android 4.2 system, gyroscope, electronic compass and so complete. Some characteristic feature is, SUGAR phone built a variety of somatosensory operation, support Taking unlock gesture browsing, gestures, pictures, and put out the flip screen, mute, and support for OTA upgrade and wireless projection function.