MediaTek and Qualcomm signed an agreement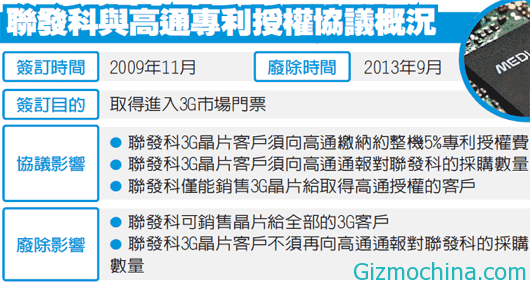 Mediatek a taiwanesse chipset company has been signed an agreement with Qualcomm the major chipset company, is now MediaTek will sell 3G chipset that not got the Qualcomm authorized clients, and do not have to Bulletin 3G Qualcomm chip shipments.
The industry believes that this couplet Fake, no doubt win furrowed years of "magic", there are currently about half of mobile phone manufacturers in the mainland manufacturers did not obtain authorization Qualcomm, MediaTek future will further amplify customer base.
Based technology market research firm Strategy Analytics survey, based on sales of view, in 2012 the global smartphone applications processor market, the high pass with 43% market share ranked the top spot in the low-end smart phone market to catch up MediaTek is ranked fourth. However, in the emerging China market, MediaTek won half. This article comes from MTK mobile phone network http://www.mtksj.com
To cut into the 3G market, MediaTek announced at the end of November 2009 with the signing of Qualcomm CDMA and WCDMA patent license agreement, then the market interpreted this as MediaTek get into the Chinese mainland and overseas 3G mobile phone chip market "tickets."
However, according to the mutual licensing agreement, MediaTek's 3G customers even without using Qualcomm chips, or must be paid to high-pass the whole price of about 5% of the patent licensing fees, and must Qualcomm reported shipments in order to calculate license fees. This is interpreted as "unequal treaties."
Limitations in the patent license agreement, MediaTek's 3G chip can only sell to obtain authorization Qualcomm phone customer, the customer base was severely narrows.
It is understood that the original MediaTek because given the 2G feature phone started to enter the plateau, the future will be gradually replaced by smart phones, in a hurry to cut into the 3G market circumstances, misjudge the situation, and Qualcomm signed a patent license agreement in this paper, but form a "special case" because of backward mobile phone chip suppliers such as China mainland factory Spreadtrum, were not "comparable treatment."
For the lifting of the restrictions, the market came, MediaTek has the U.S. Fair Trade Commission filed a complaint and was recently successful appeal, which repeals the two sides signed a patent license agreement, MediaTek has recently begun to expand client advocacy matter. The industry believes that MediaTek and Qualcomm's patent licensing agreement after the abolition of the mainland, at least half of the market can also be amplified.