Short review of Lenovo VIBE X smartphone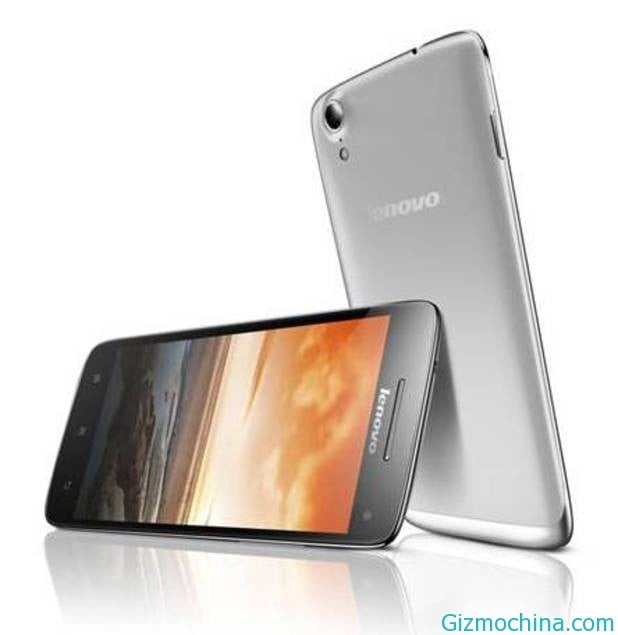 Lenovo smartphone has become the popular domestic mobile phone maker in China, this brand is now becoming the second brand, behind Samsung. Lenovo is now becoming the dominant in lokal market and globa market, especially, Lenovo has unveiled the new Android phone through Lenovo VIBE X smartphone.

On early 2013, Lenovo and Intel has jointly launched the Lenovo K900 smartphone, although Lenovo has not released specific sales of this phone, but according to the association's statement, this product is still exceeded expectations at the time imagined. Through Lenovo K900, Lenovo has making the commercial's video  with NBA star Kobe Bryant, and in 2013, Lenovo has improve the smartphone lineup.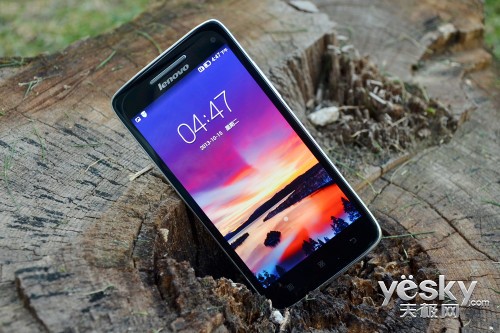 Lenovo also recall the product line structure, divided into K, S, P, A four series, respectively, for high-end, fashion, business and carrier customization for precision marketing, such a structure is also maintained for nearly two years. In order to further breakthroughs in the high-end market, Lenovo smartphones finally in September 2013 launched a new series of brands and product lines for the original re-induction, with the formation of a high-end, enthusiast, fashion and other characteristics of VIBE series.
VIBE's first smartphone VIBE X at the end of September 2013 officially released, as Lenovo's new high-end flagship product, VIBE X how about the performance of this paper, this phone is to conduct a comprehensive evaluation of the work, one by one to answer your questions VIBE X phone drip.
Lenovo VIBE X design philosophy is based on a sense of quality and the line developed, in order to highlight the product's temperament, even standing there, there is also a gas field exists. So we see that Lenovo VIBE X of the fuselage with a 2.5D cutting process of the screen, so the screen on Lenovo S820 has been successful, again applied VIBE X, so that this phone has a visual advantage.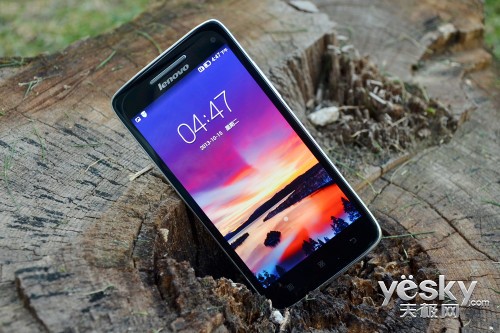 Lenovo VIBE X overall look is more emphasis on product qualities
The screen can also be said 2.5D double-edged sword, first mentioned his visual senses better, can effectively improve product qualities, while in operation, so that feels even more ideal; However, the use of this cutting process screens , also basically say goodbye with mobile phone film, although the third generation of Corning Glass let VIBE X can effectively resist the scratches on the impact of the screen, but the lack of protection of the mobile phone screen, or easy to produce some do not trust the feeling.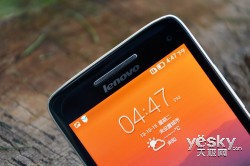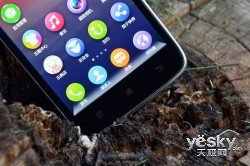 Lenovo VIBE X has a screen 2.5D cutting process
Since 2.5D cutting process screen to join, so VIBE X smoother on the overall shaping from the fuselage to the rear of the fuselage transition metal wrapped border, reconcile the excessive flexibility of the body, in order to add products a little cold, this color is also relatively easy to improve product quality, let the phone more fashionable.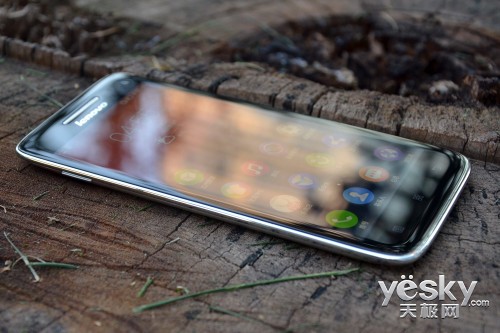 Fashionable important feature of Lenovo VIBE X
Phone feel, is a very abstract concept, but also the eyes of the beholder wise see wisdom in the matter, we can not quantify a specific product feel good or bad. Product early in the design, or the cost of the product under consideration is based on, or the appearance of the product design as a selling point, while the VIBE X backplane options in the body, using a metal braid concept, so the idea is the source from contact with the skin is the largest clothing fabrics, so Lenovo will fuselage backplane material locked in a relatively high degree of human identification knit, so we operate VIBE X, I can feel more comfortable fit degrees, and interleaving lines of the panel, can effectively resist the fingerprint-related problems. In addition, VIBE X body weight remained at 121g, it also can be back with the body material.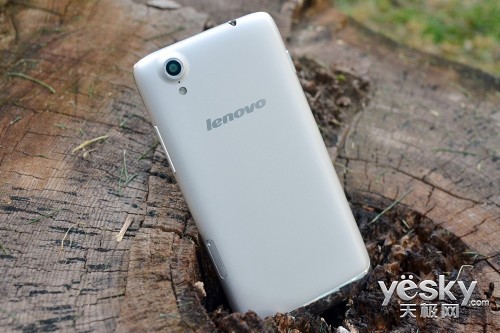 6.9mm slim
Lenovo VIBE X will phone to control the thickness of 7mm or less, up to 6.9mm, thinnest will be lower, thanks to the previously mentioned 2.5D screens and metallic braid back, and in such a slim body below, VIBE X buttons and interface configuration is still quite complete.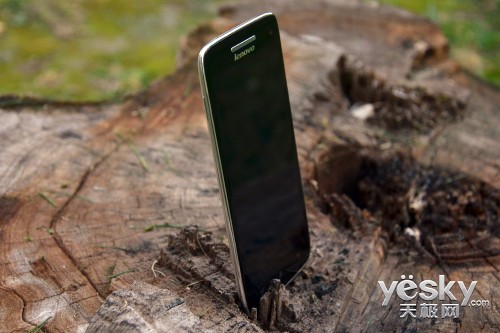 Lenovo VIBE X size of only 6.9 mm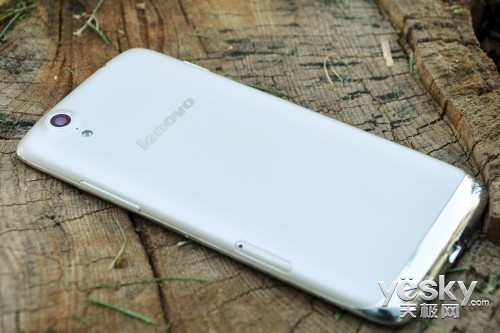 Lenovo VIBE X buttons and interface more complete
Left fuselage configuration power switch, volume control keys are located in the fuselage on the right, and not because of the design of key transition fuselage cut the flow line, and unobtrusive, while the class is also a key metal backplane with your phone style of integration, the actual operation of feel more comfortable. While the right side of the fuselage is equipped with a SIM card slot, because integration of body constraints, SIM card slot need to use the needle to pop up.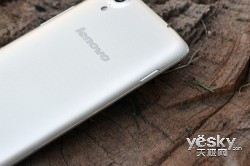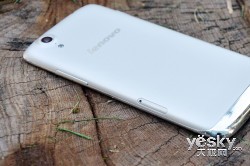 Lenovo VIBE X used increasingly common integrated body design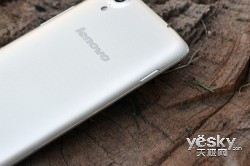 Lenovo VIBE X button and the interface is quite fine workmanship
3.5mm headphone interface with the Micro USB interface were placed at both ends of the fuselage, are internationally standardized interface, easy for users to mix their favorite accessories.
5-inch large screen and the new interface
Lenovo VIBE X equipped with a 5.0 inches screen, this phone is basically the standard configuration at this level, so Lenovo VIBE X's screen does not lag behind other flagship product. In the resolution, the aircraft is following the Lenovo K900 , the second implementation of 1080p HD resolution phones. Meanwhile reach 440 ppi levels from the parameter can theoretically provide superior visual enjoyment.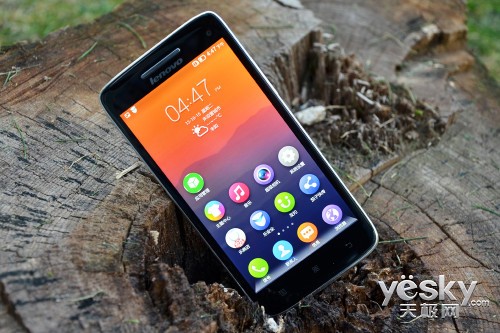 Lenovo VIBE X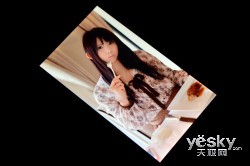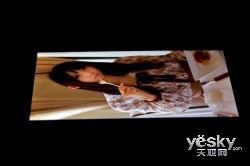 Lenovo VIBE X display with excellent viewing angle
Meanwhile, Lenovo VIBE X supports Sunlight readable function, it can help mobile phone in the sun to achieve a brighter screen expression. Through testing found, VIBE X compared to Lenovo products before, it is indeed an effect on the performance of the screen gives a stunning impression, while the color expressive enough rich enough to deal with different scenarios under use.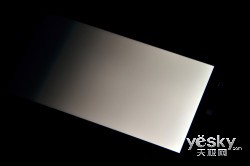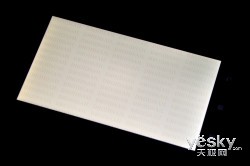 Lenovo VIBE X display grayscale and viewing angle test
One-hand operation system optimization
The screen, the phone is needed is a personalized, user-friendly operating system , to make daily operations more comfortable, so Lenovo VIBE X enable new UI interface, random own UI interface, has been completely invisible Before Lenovo mobile phone features, replaced by a simpler procedure, when we think the future will be in this posture Lenovo mobile phone appeared in the world, we find that the built-in themes to give mobile users according to their preferences, download different theme.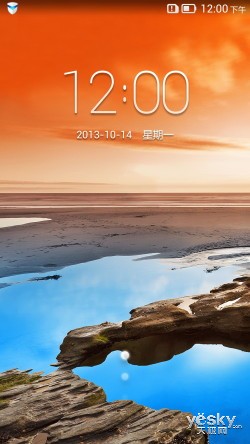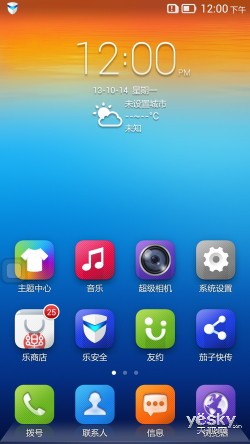 Lenovo VIBE X upgrade with a new Lenovo UI
In VIBE X conference the same day, we have learned, the new Lenovo UI, will be faster updates to optimize the use of mobile phone experience .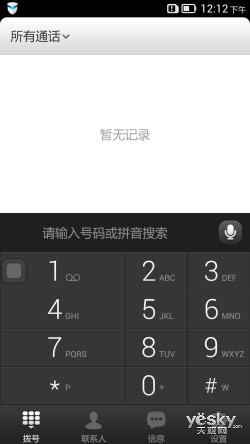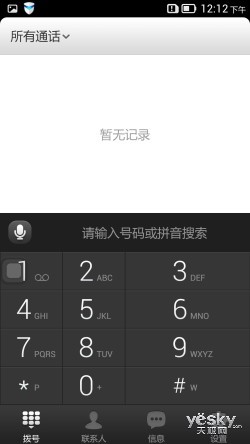 Lenovo VIBE X focused on enhancing single-handed control experience
Lenovo VIBE X advocate for mobile operating return to simple ideas, so VIBE X not only in the design, the more reference to the human engineering mechanics designed to allow one-hand operation become possible after, but also in terms of software emphasized this point.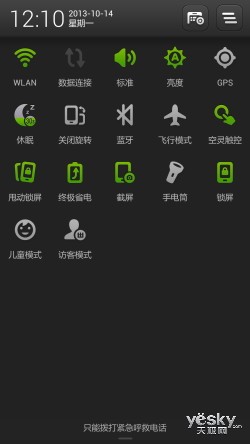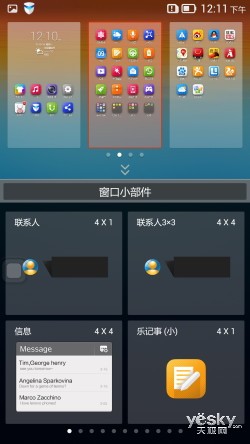 Lenovo VIBE X interface is more easy to control
Few of the more typical case is that when users find a telephone call, as long as the phone close to the face, was then hit the state, it will be recognized automatically answer the phone, then we can effectively avoid the one hand can not slide the screen Answering situation. In addition, the phone dialing keypad , mobile tilt angle will be based, showing the state of mercury, so that one-hand operation can be achieved. In addition, black screen, no touch power switch, can also unlock phones. These are carried out with the new version of the UI optimization work.
Hardware configuration and run sub-test
Lenovo VIBE X pursuit of the ultimate user experience , so the R & D engineers will focus more on how to make phone operation easier this level, while the aircraft is the main fashion, high-end positioning, nowadays mobile phones, high-end and performance can no longer be equated, so we consider the performance of this product test how much that means.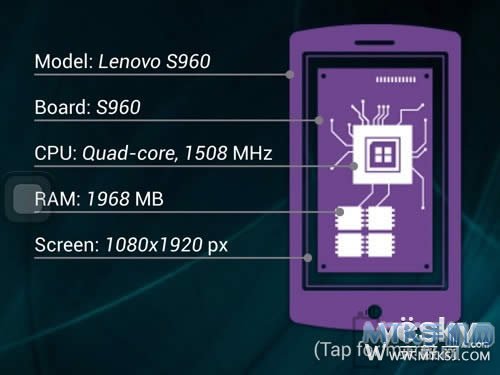 Lenovo VIBE X uses MTK 6589W quad-core processor
The future to meet the different readers, we decided to run sub-test session at the corresponding evaluation work. Announced the results, we first look at the phone's hardware configuration: Lenovo VIBE X using MediaTek 's latest MTK6589W quad-core chips, the main frequency up to 1.5GHz, the processor built-in PowerVR 544 graphics processor, to have smooth playback of 1080p HD video file level. While cell phone built-in 2GB running memory for smooth operation of the phone provides excellent protection.
And specific run sub-scores, in fact, are we expected, because MTK platform of products, most still use 720p levels of resolution, so the results are also generally remained at around 15,000 points, Lenovo VIBE X's screen resolution rate reached 1080p level, so to some extent, the processor needs more resources to fill the high resolution graphics performance, the final test results show, VIBE X in security Bunny version 4.0 score reached 15,000 points above, which is currently MKT quad-core phone, the relatively high scores.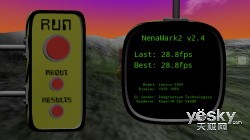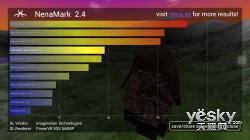 Lenovo VIBE X Nenamark test results
In Nenamark test results, VIBE X score reached 28.8, in large-scale 3D games, can also be a good experience. And we get the VIBE X engineering prototype, test systems and hardware anastomosis has not yet reached the level of the final production, so run sub-scores and the final version of the product market, there are also some differences. This article comes from MTK mobile phone network http://www.mtksj.com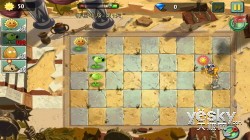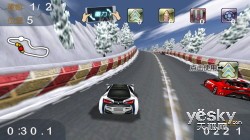 Lenovo VIBE X easily manage mainstream games
So we chose the more popular nowadays tested several games, including Zombies 2 , etc., the test results show, VIBE X APP's performance in addressing these relatively smooth, the user will not have to experience.
13 megapixel camera with video
Lenovo smart phone from K860 onwards, the camera has been the formation of a tradition and genes, especially in the women's cell phone in the sequence, but is to strengthen the role of the camera, this time in VIBE X, the same brighten a super camera 's function, while with 13 million pixel camera, excellent camera gives the user experience . First, functionally, Lenovo's super camera integrates a large number of excellent masks, scene recognition and camera features, users can use almost fool-camera process, shoot different styles blockbusters.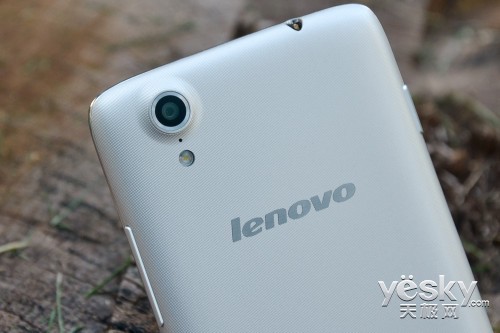 Lenovo VIBE X camera is one advantages of the project
In the image quality, the Lenovo VIBE X level is more ideal, well-lit conditions, the object of more accurate color reproduction, while the details of the process is also ideal, there will be too much modification traces of dark light environment, The phone is able to ensure a more pure and brightness of the screen, I believe that the user through the super camera can shoot a lot of good work.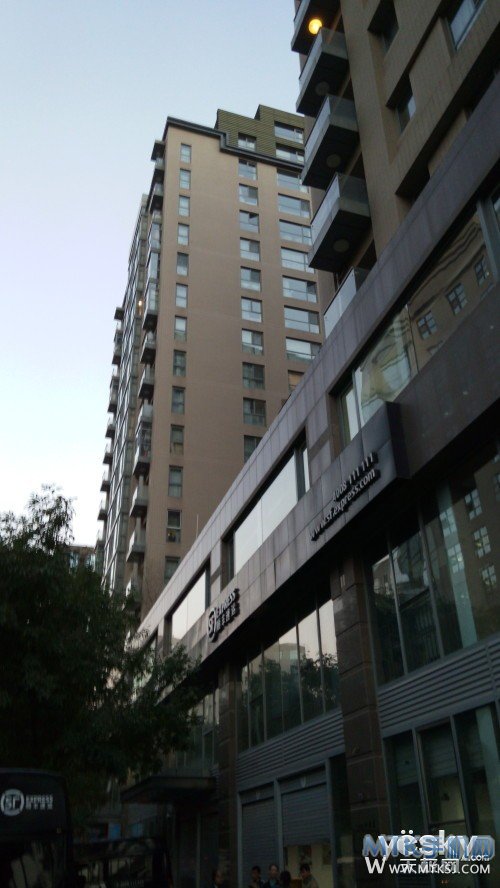 Lenovo VIBE X outdoor environment photo proofs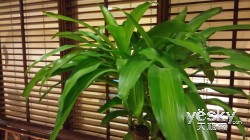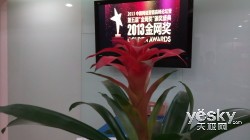 Lenovo VIBE X indoor environment photo proofs
In the video side, Lenovo VIBE X can play at 1080p resolution video files, including MP4 types of video files playback is relatively good, they can do a fluency mobile high-definition player.
Lenovo smart phone must ultimately function is Lenovo Le safety, this application can help users achieve greater management authority, avoid leapfrog calling user information, while supporting the five anti-tri-mode functionality in our previous article, has repeatedly introduced Guo Yue security software, you can click on the link to in-depth look at this software: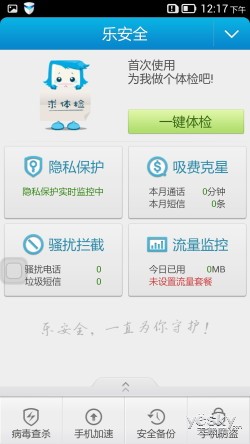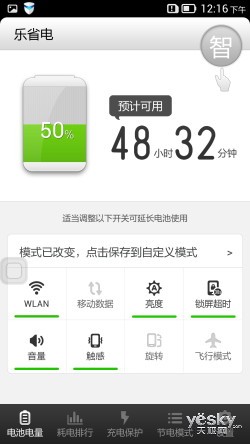 Lenovo's unique music safety, energy saving and other special applications music absent Lenovo VIBE X
Eggplant is Lenovo's fast transmission of a software application, he can form directly connected via WIFI, the file transfers across multiple devices, compared to traditional Bluetooth to send files, eggplant fast pass not only faster, but stability and better security, WIFI directly connected case, a GB level product that can be completed in a minute units.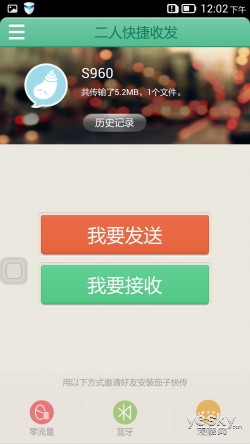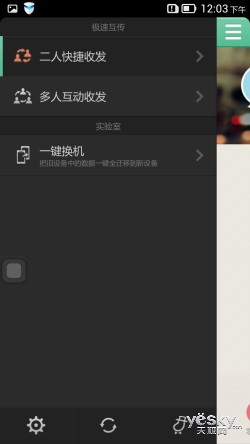 Lenovo VIBE X also built eggplant fast transfer application
Endurance and evaluation summary
Lenovo VIBE X configure a 2000 mA lithium-ion batteries , because the body is not removable, the battery can not be replaced, so we VIEB X endurance more interested, after all, Lenovo has launched the super standby king. According to official data, Lenovo VIBE X can effectively life 402 hours.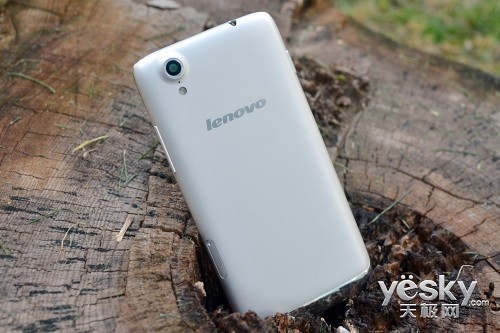 Lenovo VIBE X built-in 2000mAh capacity battery
Through testing found in the state of 3G, WIFI Bluetooth are kept open state, this phone can persist after a day's work, which for a 5.0 inches large screen quad-core phone, is also a good result.
Summary:
Lenovo VIBE X give us convey the message that not only do think the quality of products, while good products tonality. This adjustment is reflected in VIBE X, it is more humane care and Romanticism plot. Especially in the design and operation of the body to experience the sublimation process, the pursuit of high-end flagship Lenovo texture, has been well represented.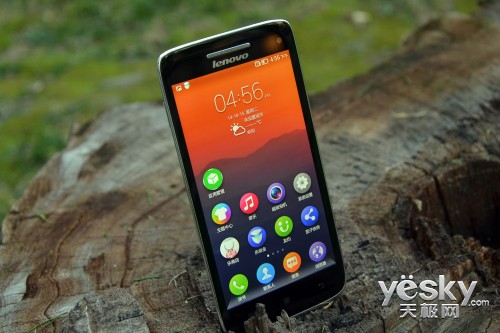 Lenovo Lenovo VIBE X will no doubt be a new high-end flagship product representatives
The actual operating results show that Lenovo VIBE X compared to the previous product, the function received a lot of improvement, especially in the new UI more than 300 improvements and new GUI, are some bright spots, while giving the phone plus a lot of brownie points. Function and design have devoted a lot of effort Lenovo, the world experience really gives a good impression, then the next step is how to pry this phone pockets of consumers, marketing, work is also an important part.