The first True Octa-Core MT6592 chipset from MediaTek was unveiled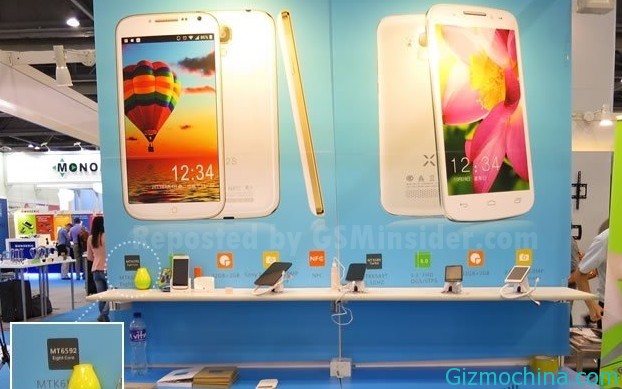 Back on June, MediaTek has been launch the true octa-core chipset through MT6592, and we found the first smartphone that already powered by those processor at Hong Kong Electronic show, the phone is UMI X2S Android smartphone.

The UMI X2S is the second version of UMI X2S, the new version is powered by Mediatek MT6592 processor, this is the "real" octa-core processor because all eight cores able to run at the same time. While the UMI X2S is equipped with a 5-inch touch screen 1080P resolution, built-in 2GB of RAM and 32GB internal storage. The phone is also has 13 megapixels main camera and supports NFC feature.
MediaTek MT6592 uses big.LITTLE architecture, consisting of eight Cortex-A7 core components, manufacturing processes for the 28nm, core frequency between the 1.7-2GHz, graphics chip for the Mali-450. It is reported that this processor has been determined at the end of this year officially shipped.
Earlier, Samsung has released eight-core processor through Exynos 5 Octa, because it's only used the quad-core processor. MediaTek MT6592 has been trying to prototype device that packs of 1GB RAM, 720p display, 1.7GHz MT6592 eight-core processor, Mail-450 GPU. The devices has been got 25,496 score point from the Benchmark test, and beat the Snapdragon 800/600 and the Exynos 5 Octa performance;
MediaTek hit the eight-core processor with cheaper price. If the test can be achieved using a chip clocked at 2GHz, believe that the test results can be more than 30,000 score points. So What do you think?