The new three kind of Blade Q smartphone from ZTE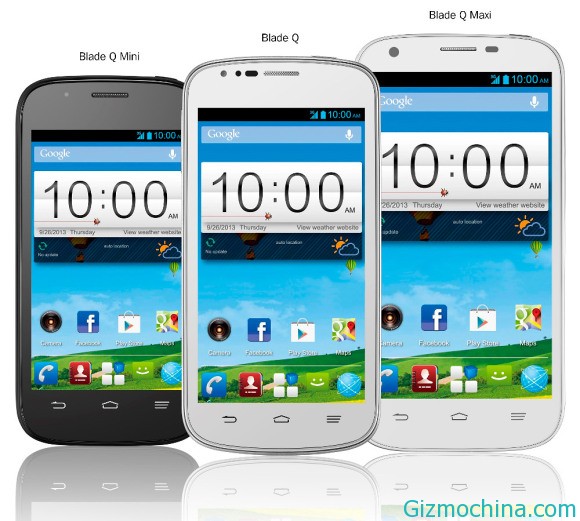 ZTE has unveiled their new smartphone for European market, is now ZTE is trying to compete with all market segment through the new trio of ZTE smartphone model called as ZTE Blad Q series smartphone.

The tree smartphone came with different screen size (and specs of course), the Three model of those phone are, ZTE Blade Q Mini, ZTE Blade Q and ZTE Blade Q Maxi.
Those phone has the similar design and powered by MTK6572 1.3 GHz dual-core Cortex A7 processor, sports with Mali-400 GPU, 1GB of RAM, coupled with VGA front-facing camera and 4 or 5 megapixel rear facing camera.
The different between those phone are on the screen size, while the ZTE Blade Q Mini is packs with 4 inch screen size with 480 x800 pixel resolution and powered by 1500 mAh battery capcity. While the other model is Blade Q smartphone that comes with 4.5 inch screen size with 480 x 854 pixel resolution with 1800 mAh battery capacity, and the other series is Blade Q Maxi with 5 inch screen size with 480 x 854 pixel resolution with 2000 mAh battery capacity.
While for now, we don't have any information about release date and the price, but it's seems the phone is targeting for low-end market since those phone has standard specs.