Lenovo Vibe Z smartphone powered by Snapdragon 800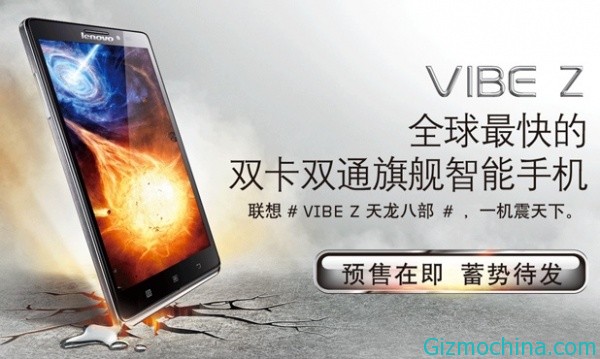 Lenovo is nowa ready to release the new smartphone, Lenovo Vibe Z, this phone is powered by Snapdragon 800 processor and packs with 5,5 inch screen size.

Before now, Lenovo laready release the Vibe X smartphone that powered by MediaTek chipset. The new Vibe Z is powered by Snapdragon 800 and this phone has code number K910, as we mentioned above the phone has 5.5 inch screen size and support for 1080 IPS panel.
The phone comes with Sony IMX135 13 megapixel camera with aperture f/1.8, with dual LED flash, the camera can take up to 10 still images per second continuous shooting speed. According to information, the camera module can provide better picture with low-light environment. In addition, Vibe Z also has 5 megapixel wide-angle front-facing camera, packs with dual SIM card slot, and has 278.5 hours of battery life in single charge, the phone is also came with nice colorfull case to protect the phone.
Lenovo will soon start receiving the official online reservation for Vibe Z, but the price is not announced yet. In the Chinese market, the phone is available for variet of network, such as WCDMA and CDMA2000 version, while in the international market will also offer LTE version.