Huawei P7 specs leaked from internal documents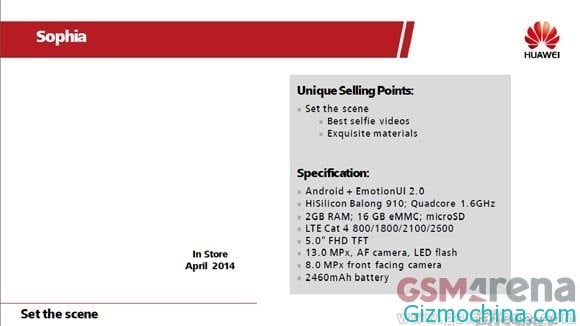 After sucessfully with Ascend P6, is now Huawei is preparing the next upcoming Huawei Ascend P7 smartphone. And this phone specs is leaked from interneal document recently.
According to leaked document, the upcoming Huawei Ascend P7 will has codename "Sophia", this phone is upgrade version of Ascend P6 and will be starting debut on Next April 2014.
The documents show that the upcoming Ascend P7 will use metal body design and the phone will be equipped with 5.0 inches TFT touch screen, and the resolution will be upgraded to support full HD. Built Hass Kirin 910 1.6GHz quad-core processor, and its main feature is the manufacturing process from 40nm processor upgrade to 28nm,, and equipped with Mali-450 GPU. Performance than in the past only a 20% improvement, and enhance GPU graphics performance is more than 100%.
Huawei Ascend P7 comes with 2GB of memory and 16GB of storage capacity, and support for memory card expansion. Equipped with the new version of emotion UI 2.0 interface, allegedly the main features is to maintain the previous single-level application interface, and joined the colorful fresh elements.
In addition, Huawei will be the "Best Profile Video" as the main selling point of the machine, for the first time equipped with a 8 megapixel front camera , while the main camera can also be upgraded to 13 megapixels with autofocus and LED flash functions.
Huawei Ascend P7 also supports high-speed 4G networks and provide LTE Cat 4, maximum download speeds of up to 150Mbps s, and is compatible with multiple 800/1800/2100/2600MHz network, as well as equipped with a 2460 mAh battery. According to foreign websites, Huawei Ascend P7 will be released in April next year, but it is unclear specific price.