Asus PadFone Mini is now official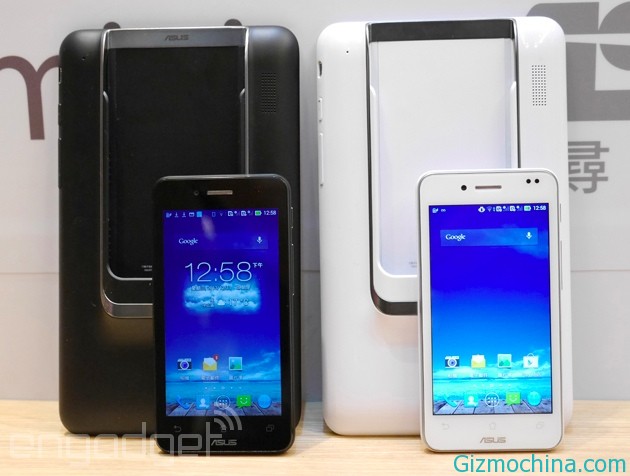 After spread as rumor, Asus is now officially released the new PadFone Mini tablet+smartphone hybrid device, this device has a unique design since the tablet has a slot for smartphone in the back. Asus PadFone Mini is the Mini version of fomerly PadFone series that release by Asus.
This device was introduced by the design of a more petite than the PadFone Infinity , with a 4.3 inch screen size smartphone with 960 x 540 pixels and a 7-inch tablet with 1280 x 800 pixels resolution. The new PadFone Mini is equipped with a quad-core Snapdragon MSM8226 1.4GHz processor and 1GB of RAM. The processor chip using quad-core ARM Cortex- A7 and equipped with Adreno 305 GPU. There is also a microSD slot and 16GB of internal storage.
Asus PadFone Mini is running Android 4.3 Jelly Bean oeprating system. And there is a 1500 mAh battery capacity on phone and 2200 mAh battery on tablets in the dock. The device also comes with dual SIM dual standby GSM/WCDMA networks.
There is an 8 megapixel rear facing camera that can record full HD 1080p video. The tablet is offers with 11,990 Taiwan dollar or around $405 USD price per unit.