THL T5 is heading to market soon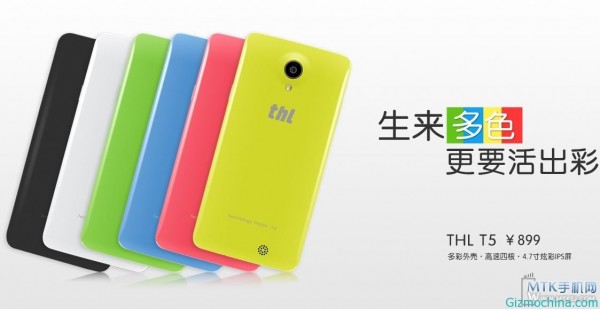 THL is ready to release their new smartphone as soon as possible, since they has their new products thats called as THL T5 Android smartphone, this phone is nstering the T-series and offers with 899 yuan price or around $148 USD.
THL T5 is a crowd of young users to create a quad-core products, so both the appearance and even more eye-catching photos. T5 measurements for size 139.3 x 68.75 x 9.5 mm, with aristocratic black, pearl white, warm red and yellow four kinds of colorful vibrant color, the overall design of fashion, the aircraft's frame embedded in silver and white trim, the back of the upper and lower ends with a more large arc design, loud speaker holes round so subtle distinctive.
In addition to T-Series T5 high-definition camera specifications inherited good, equipped with a 5 megapixel front facing camera after 8 megapixel main camera, although not so powerful with THL
T200, but this phone camera is good for ordinary user. THL T200 has 6-inch giant screen, while the T5 has 4.7 inches qHD resolution screen contrast "delicate" A lot. Another machine is equipped with a 1.3GHz frequency MTK6582M main quad-core processor, 1G RAM +4GB of internal storage and 1950 mAh battery, support for TD dual card dual standby, the same Jelly Bean OS. It is worth mentioning that the machine has OTG support, and has electronic compass.