OPPO R8007 spotted on Benchmark database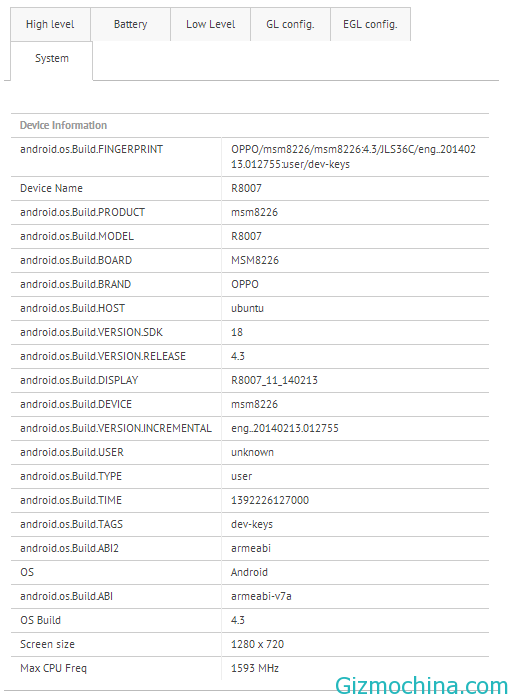 OPPO seems ready to release their new smartphone, after they now already release their flagship smartphone in most Asian market. The new smartphone is spotted on GFXBench.

The new OPPO smartphone is OPPO R8007 that running with Android 4.3 Jelly Bean operating system and powered by Snapdragon S4 MSM8226 that running at 1.6Ghz clock-speed while for now, there is no information about the screen size but the resolution is 1280 x 720 pixels.
The upcoming OPPO R8007 will be available in the Chinese market soon, and the phone will be support for dual-SIM card support that working on TD-SCDMA, CDMA 1xAdv and HSPA+ since the processor is using S4 MSM8226 chipset that already support for dual-SIM card. The Processor is alos support for 1080p video capture and playback and this phone is also sports with 13 megapixel main camera and Adreno 305 GPU.
According to information, the upcoming OPPO R8007 will be launched in the Chinese market. The software version of the R8007 was revealed by this line "OPPO/msm8226/msm8226:4.3/JLS36C/eng..20140213.012755:user/dev-keys", which is JLS36C.
It's seems the upcoming OPPO R8007 smartphone will be showed at Mobile World Congress (MWC) 2014 at Barcelona on February 24th tomorrow. So, let's wait.