HTC Desire 8 unvieled on Sina Weibo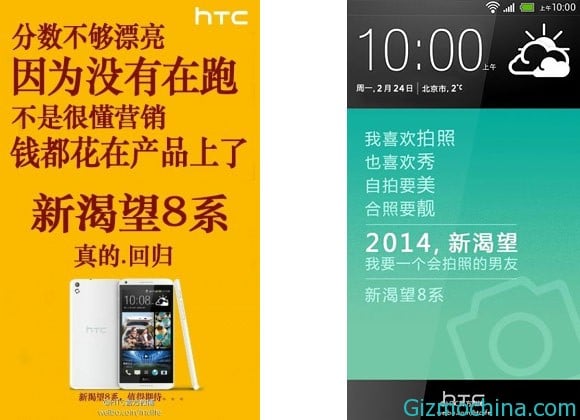 HTC is one of the Taiwanesse smartphone company that also heading to Barcelona for Mobile World Congress (MWC) 2014, few days before the event, HTC Desire 8 phablet phone is leaked from Sina Weibo, the biggest microblogging site in China.

From Sina Weibo website, there is an image of HTC Desire 8 and another post showing the Sense UI that describe the date of launching of those phone for  for 10AM on February 24. That's the schedule of MWC.
While from that screenshot, there is a weather report that shw 2°C Beijing, it's spread the rumor about the launching of these phone will be held in Beijing, but the rumor is inaccurate.
According to the rumors, the new HTC Desire 8 is the mi-range device that packs with 5.5 inch screen size, but sports with 13 megapixel main camera and 5 megapixel front facing camera, there is also BoomSound for audio, nad now HTC has BoomSound technology since appart from BeatsAudio last years.