Goophone S5, Samsung Galaxy S5 clone with only $299.99 USD price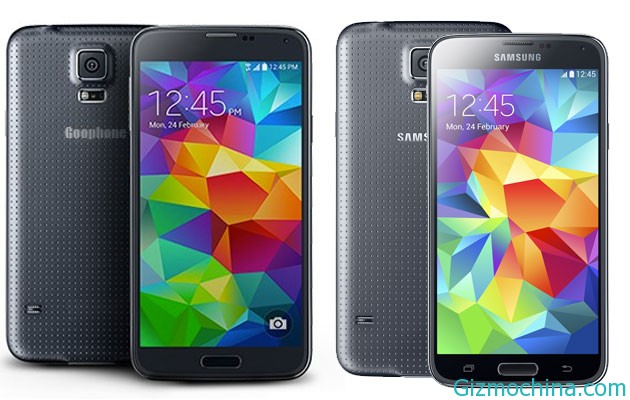 Two days after launched at Mobile World Congress (MWC) 2014, Samsung Galaxy S5 already has a clone. Goophone managed to trace the Galaxy S5 in less than two days, even though the phone was not circulated in the market. The clone phone is Goophone S5.

The new Goophone S5 is packs with 5-inch screen size  1920 x 1080 pixel resolution, the phone is also powered by octa-core 2GHz processor from MediaTek and sorts with 2GB of RAM.
The Goophone S5 specs is certainly tempting for those who crave a good phone at an affordable price. What's more, Googphone S5 is equipped with WiFi 802.11b/g/n connectivity, dual-SIM card slot, 32GB of storage space and 2.800mAh battery capacity. This phone is also equipped with 13-megapixel main camera and 5-megapixel front facing camera, and run Android 4.2 Jelly Bean operating system.
It is available in white, black, gold and blue, just like the Galaxy S5. But, of course, the price is very affordable since this phone is only offered for only $ 299.99 USD per unit.