The Xiaomi tablet is exposure, 9.2 inch tablet specs is too low?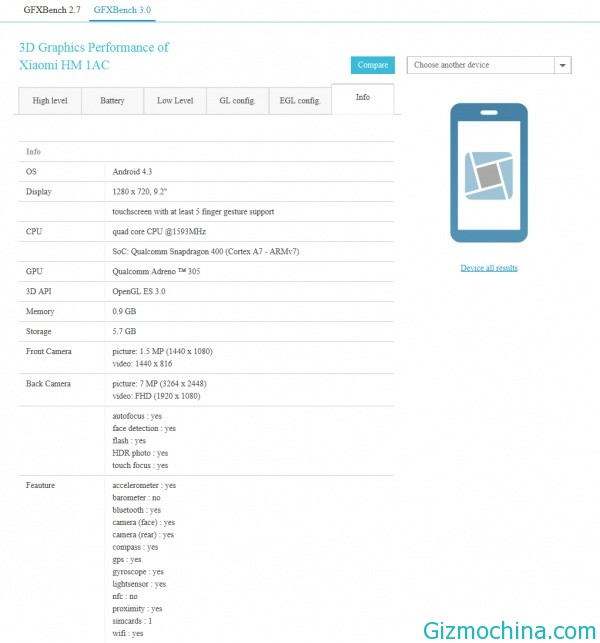 While for now we've ever heard about the upcoming Xiaomi tablet and we've writing the news about the Xiaomi tablet that has 9.2 inch screen size.

In the GFXBench website, those tablet is known as "Xiaomi HM 1AC" – Could be classified as red rice sequence?



The tablet has a 9.2-inch screen size with 720p resolution, powered by quad-core from Snapdragon 400 1.6GHz (Cortex-A7 architecture), integrated Adreno 305 GPU, and sportsw with only 1GB of RAM, 8GB of internal storage, coupled with 8 megapixel and 1.5 megapixel camera (configuration table mistaken for 7 megapixels), running Android 4.3 Jelly Bean, and allegedly is dual network 3G/Wi-Fi version.
This configuration is now entirely unremarkable, performance naturally appalling, and has ran 4.0FPS, 1080p resolution mode is not directly through.
In the previous rumors, Xiaomi tablet should powered by MediaTek MT8125 1.5GHz quad-core processor, and has 7-inch IGZO screen display.
Those specs is too low and its seems for entry level device configuration, but the 9.2 inch screen size is large enough for low-end smartphone or tablet device, so what do you think?