OPPO has launch redeem program to swap to OPPO Find 7 smartphone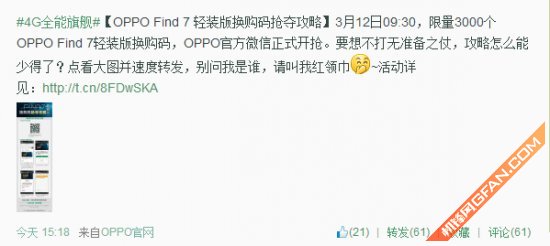 OPPO Find 7 is the new flagship smartphone that ready to coming to market in the near future, but Oppo has not release the official campaign.

According to microbloging site, the user can redeem their older device to swap to the new Oppo Find 7 smartphone while the older device is worth 800 yuan.
OPPO has been announce on their microblogging, about the release date is starting on March 12, 09:30 Chinese time. Oppo has preapring 3000 redeem code, while the redeem phones is limited to Oppo Find (X903), Find 3 (X905) and Finder (X907) users to participate.
According previous rumor, lightly armed version OPPO Find 7 will use 5.5 inches 1080p resolution screen, powered by Qualcomm Snapdragon MSM8974AB processor, memory 2GB RAM, supports dual 4G networks and TD-SCDMA and WCDMA two 3G network standard. OPPO Find 7 will be officially released on March 19, packs with 2K screen display and 1080 pixel resolution.