RedMi Note, the new phablet phone from Xiaomi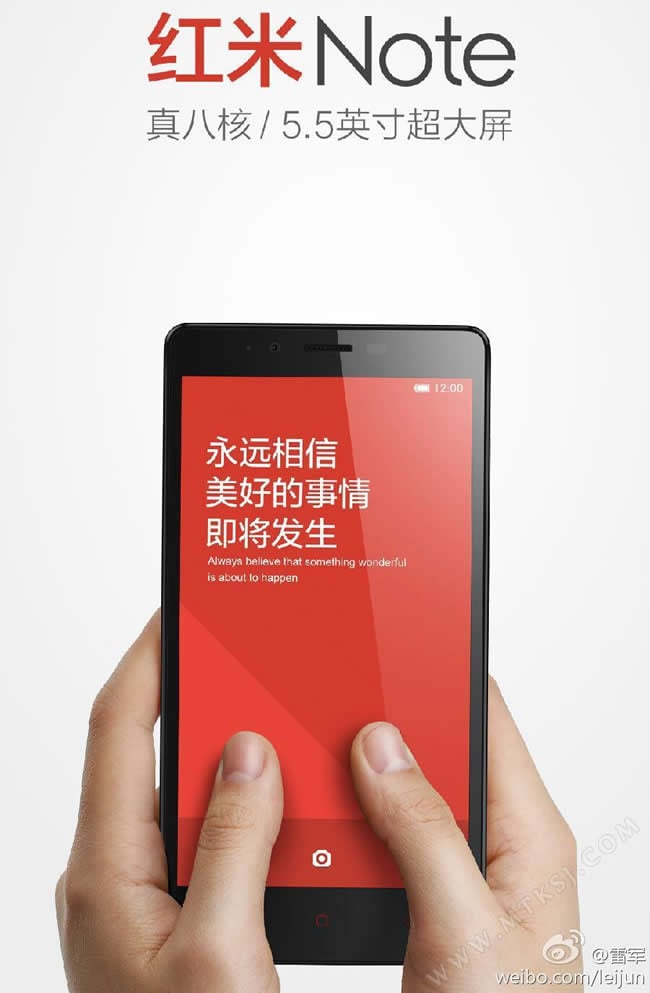 After we're heard many news about the upcoming RedMi smartphone, the phone is also called as RedMi 2, but the Xiaomi is officially renamed the phone with RedMi Note.

This is the phablet phone since has large screen size, the screen has 5,5 inch display, and now we have the official picture of Xiaomi RedMi Note that showing by Lei Jun.
The Xiaomi RedMi Note is known as code 2013121, the phone has 154 x 78.7 x 9.45mm body dimension, yess the body thicknes is not too thin, but this phone has 3000 mAh battery capacity, while the soft button is locate under the screen and the volume and power button is place on the side of the fuselage.
The phone is powered by MediaTek MT6592 octa-core processor, this phone is available in two version, the high-end version will be comes with 2GB of RAM and 16GB of ROM and powered by 1.7GHz MT6592 octa-core processor, and the low-end version will be comes with 1GB of RAM and 4GB of ROM and powered by 1,4Ghz MediaTek MT6592M octa-core processor, both version will be coupled with 5 megapixel front facing camera and 13 megapixel rear facing camera.
While for now, there is no officla statement about the price, but Sun Xuchang has estimate about the RedMi Note price, the high-end model will be iffers with 999/1199 yuan while the low end model wil be offers with 799/999 yuan. So we have to wait until March 19th come.