Spreadsheet that show why HTC One M8 is better than Samsung Galaxy S5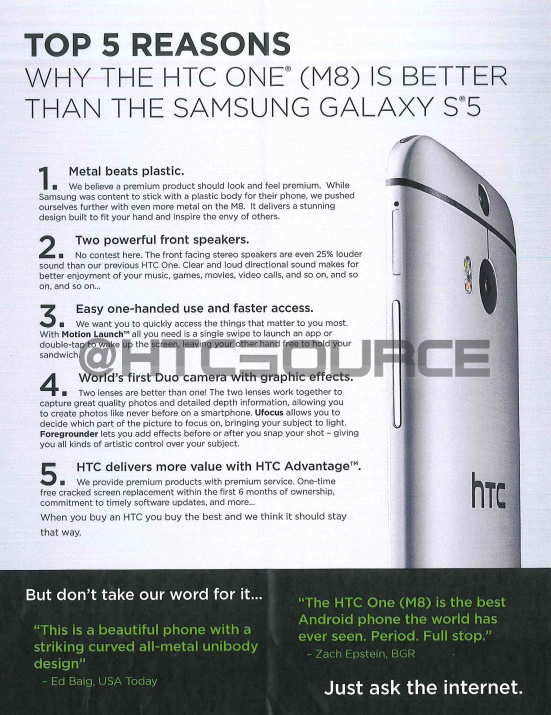 Samsung has already release the Galaxy S5 smartphone, and HTC is also unveiled the HTC One M8 smartphone, both phone offers the best features and specs.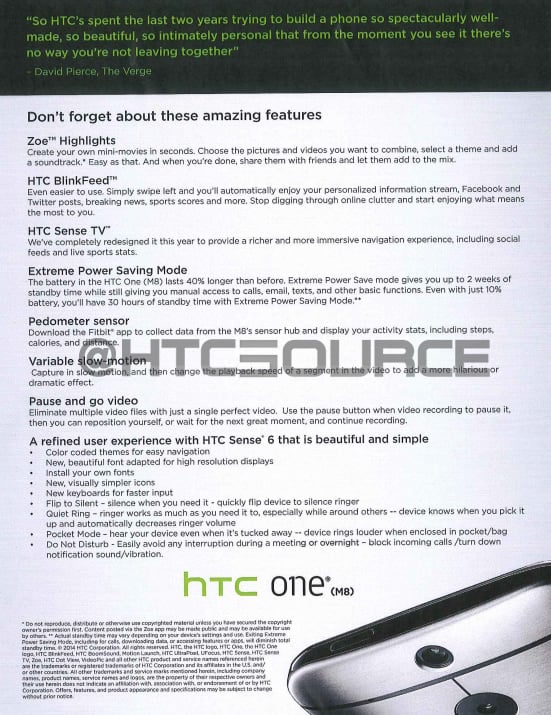 Some people may ask, which is the better smartphone between Samsung Galaxy S5 and HTC One M8? — The internal training materials of HTC One M8 for the employees had surfaced and they explain the top 5 reasons why the HTC One M8 is better than the Samsung Galaxy S5.
The first is the HTC One M8 is used metal material rathen than plastic that we found on Galaxy S5 smartphone, the metal feel more solid and elegance as premium phone.
The second is the speaker is placed at front panel of HTC One M8, and support for HTC BoomSound that makes the sound is 20% more louder than HTC One previous model.
The third aspect is the user experience, since HTC One M8 can operate by one handed with fast access since the HTC One M8 has Motion Launch feature so the user can swipe the screen to launch their apps.
The fourth, HTC One M8 has dual camera on rear, this camera offers the best picture and has UltraPixel camera which can make object more clear and crisp in dim environment.
The Fifth, there is a free replacement screen for first six month, so the user not to worry if tehy crack the screen.
Is that point is worthed for you? Please give me your comments below.