Vivo New Flagship Exposed: Front Camera With LED Lighting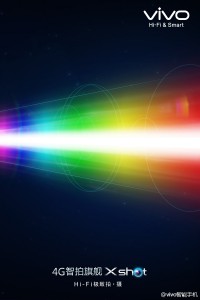 Yesterday, a netizen leaked Vivo's brand new photographic flagship product Xshot's performance stats, and today, Vivo once again leaked one shocking new feature of their product.
Revealed on Vivo's official Weibo, in order to accomplish the goal of taking a perfect selfie, the Xshot actually comes equipped with an LED bulb in front for flash filling. Apparently, the frontal LED light's power is close to the sun's natural lighting, and can even adjust its strength according to the darkness of its environment through a smart sensor, resulting in a more natural lighting.
In addition to its powerful front lighting, the Xshot also provides 7.68 megapixel front camera, and a 2.4 megapixel main camera (with double-lighting, double-temperature LED bulbs).
This adds on to a previous leak which revealed that the Xshot will have a 2.5Ghz Snapdragon 801 CPU, 3GB RAM and 32GB phone memory. It will run on Android 4.3.