A Comparison of New Generation Routers – Xiaomi Mini VS Guokr
Routers are not new concepts, but with the technological wave sweeping past everything these days, the smart router has become a fresh product. Due to the natural advantage of the router being the family's gate to the Internet, from the end of last year, Xiaomi, Guokr, 360 and various manufacturers have started a full-scale war fighting for the market share.
Today Xiaomi held a new product press conference and released the low-end router mini, priced at CNY$129 (USD$20). This is similar to the price range of the Guokr routers. In the beginning of April, Guokr launched a CNY$99 (USD$16) sale, causing its official website to receive a million orders.
| | | |
| --- | --- | --- |
| Name | Xiaomi Router Mini | Guokr Router |
| Display | None | 2.4 inch touchscreen |
| Wifi Encryption | IEEE 802.11 a/b/g/n/ac | IEEE 802.11 a/b/g/n/ac |
| Wireless channels | Dual-channel 2.4GHz and 5GHz | Dual-channel 2.4GHz and 5GHz |
| RAM | 128 MB DDR | 128 MB DDR |
| ROM | Currently Unknown | 128MB NAND FLASH |
| Storage Space | Able to connect to hard drive | Able to connect to hard drive, charge |
| USB | USB 2.0 | USB2.0, maximum power 1A |
| Other ports | None | One port with unknown function |
| Antenna | External antenna | Internal multi-directional antenna |
| Functionality | Currently Unknown | Boosts game performance |
In terms of hardware specifications, the two products are no different. We did a detailed comparison table for everyone's convenience, so you can choose your preferred router.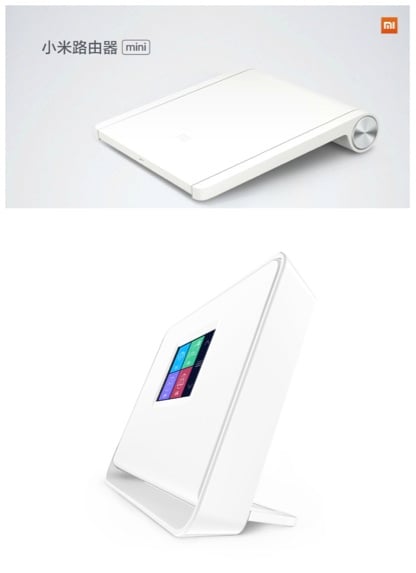 In terms of design, the Xiaomi Router Mini uses an all new design and is available in a variety of colours. The Guokr Router Beta uses a transparent shell design, but the official version as shown on the official website seems to be white. The following pictures compare the design of the two routers.