Vivo XShot smartphone beat the record with more 40,000 score point in AnTuTu benchmark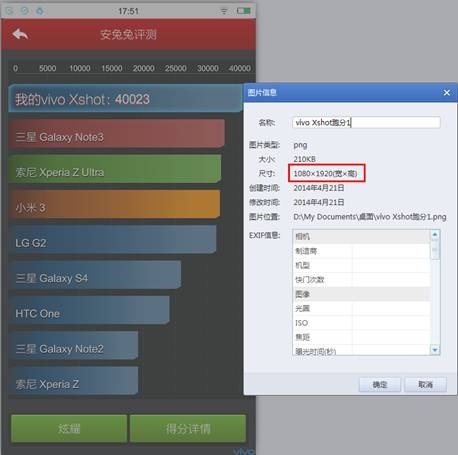 Vivo XShot is not officially released, but according to AnTuTu benchmark test, the new Vivo XShot smartphone is beat the other flagship Android smartphone in the market today, such as Galaxy Note 3, Xperia Z Ultra and LG G2.

Interestingly, this phone is also get the higher sckore in AnTuTu benchmark test, with 40,023 score point, this phone is becoming the first Chinese smartphone that get the higher score in AnTuTu benchmark test so far.
While there is another Chinese phone that also hit the higher score, the other phone is OnePlus One smartphone that got 38,000 score point in AnTuTu Benchmark test.
While we are waiting for the upcoming released of ViVo Xshot smartphone, the recent rumor says that the phone is ready to release this year, that comes from BBK ViVo company. According to recent information, the upcoming ViVo Xshot will becoming the camera centric smartphone that has Full HD screen, Qualcomm Snapdragon 801 quad-core processor, sports with 3GB of RAM and 32GB of internal storage.