Optical Image Stabiliser and Frontal Flash – New Vivo Device Out 5 May
Vivo's photography-inclined flagship series Xshot's first model is about to be officially released after various leaks. Today, the official Vivo smartphone Weibo page has announced that the company will be officially releasing the Xshot on May 7. On May 7 last year, Vivo released the Xplay at the Water Cube, and this year the Xshot will also be released at the same venue, at the same time.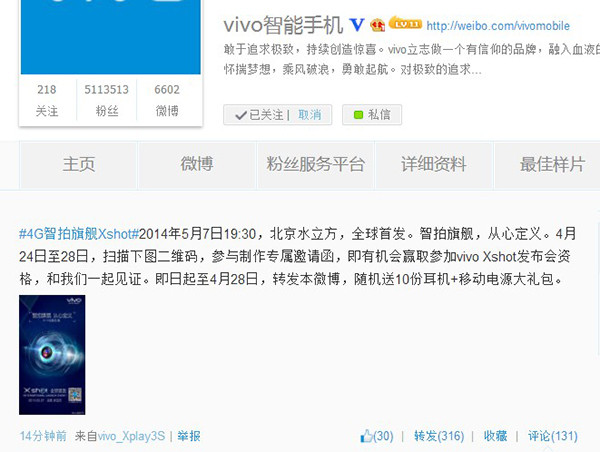 Sources reveal that the Vivo Xshot will be the first smartphone to use an F1.8 wide aperture and an Optical Image Stabilising lens, which will be able to take up to 24 megapixel photos. At the same time, it comes equipped with dual-temperature flash, allowing for a more precise white balance. The front camera is 7.68 megapixels, and is the first front camera to have full LED flash. The flash is officially said to be able to prevent red-eye while taking night selfies, and will help display the skin more natural and less oily. Additionally, the Xshot will come with two physical camera buttons.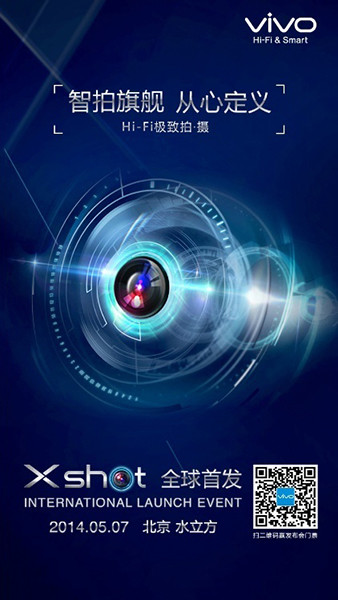 The Xshot is Vivo's new unique flagship product, and in terms of hardware offers rather impressive performance, with a Quadcomm Snapdragon 801 quad-core processor 8974AC, 3GB RAM and 32GB internal storage. At the same time, it can support up to 128GB TF card expansion. The card slot is a unified design, and is Vivo's own innovation and technology, and is fully capable of meeting the needs of the users.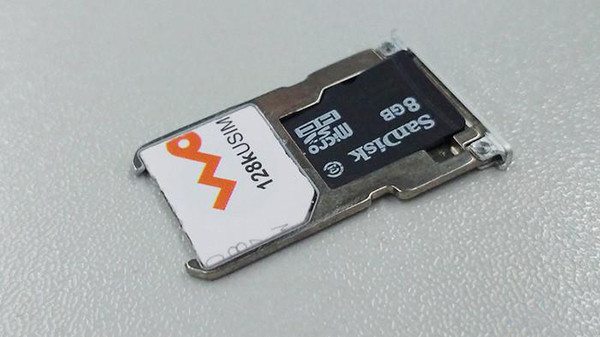 This unifed card slot design can prevent opening another slot on the device body, which helps saves space on the device, as well as make the design more beautiful.
Recently, the Internet leaked a couple of images (shown above) rumored to be renderings of the Xshot, which seems to be using a double-sided glass design, and a more rectangular body, will minimal modification. Furthermore, the news states that this smartphone model will have five different colors to choose from, to satisfy user's individual needs.