ZOPO ZP600, 3D smartphone which only has $110 USD price tag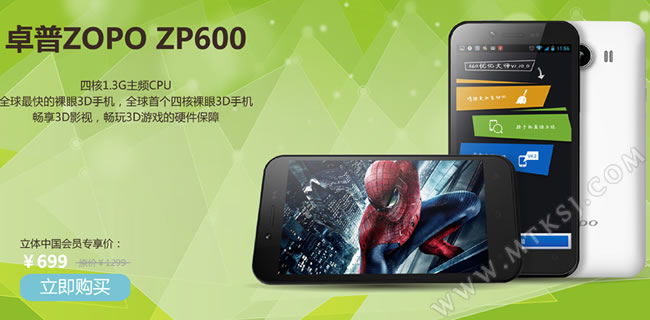 ZOPO is the one of Chinese smartphone manufacturer which always offers the nice products, after releaseng the ZOPO ZP600, this phone is now update with the powerfull processor and offers with veryaffordable price.

ZOPO ZP600 has 3D screen display, and the user can see the 3D effect without glasses, all user can see the 3D effect with their naked eyes. Before now, the phone is offers with 999 yuan but now ZOPO is give the promotional priceand the phone is only has 699 yuan price tag or around $110 USD.
The new ZP600 is equipped with a 4.3-inch qHD resolution of naked eye 3D display, with the mainstream visual grating technology to achieve the 3D effect, built-in with  3D player that support for 3D movie playback, the phone is also has regular 2D display with select the switch button.
The phone is powered by 1.3GHz quad-core MT6582 processor, support by 1GB of RAM and 4GB of ROM, coupled with 2 megapixel front faing camera and 8 megapixel rear facing main camera, the phone is also powered by 1640 mAh battery capacity, running Android 4.2 Jelly Bean operating system and supports for WCDMA + GSM dual sim dual standby.