IDC: Samsung deliver more smartphone in Q1 2014, beat Apple, Huawei, Lenovo, and LG combined

DC has just released its latest study of smartphone -related trends in the first quarter of 2014. Through these reports can be seen that Samsung continues to dominate share of the smartphone world, surpass the combined share of four other vendors such as  Apple, Huawei, Lenovo, and LG.

According to IDC, there were 281.5 million smartphones were sent worldwide last quarter, increase for about 28.6% from the same period last year but decrease 2.8% compared to the previous quarter. Smartphone controls 62.7% of the total global handset shipments, up from 50.7% a year ago.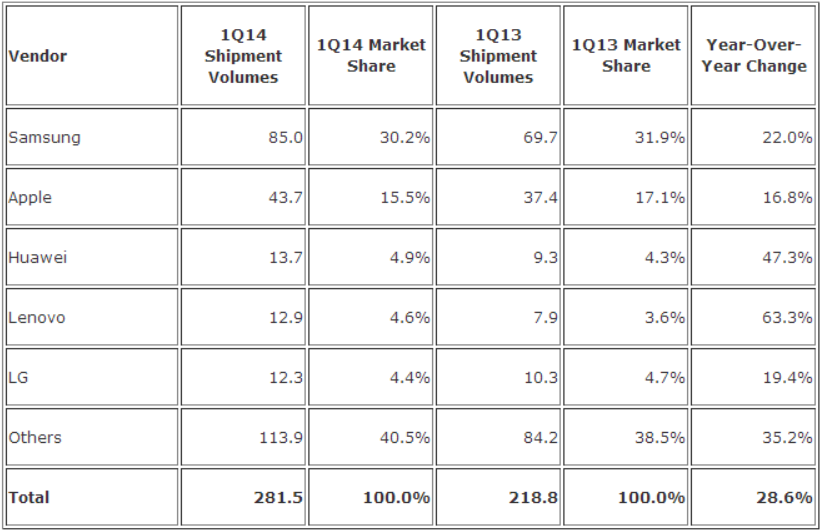 Although still share of the global smartphone market share, but in fact the Samsung fell 1.7% to 30.2 %. Apple also dropped 1.6% to 15.5%. Samsung has released the Galaxy S5 actually at the beginning of this month, but the numbers are not counted while Apple posted record by selling 40 million smartphones in the last quarter. Huawei rose 0.6% to 4.9%, while Lenovo is got 4.6%, up 1 % compared to the previous perio. LG market share fell 0.3% to 4.4% and now LG got the fifth position.
The IDC estimates that in 2014 total shipments will reach 1.2 billion units, up to 19.3% from 2013.